How to use the Audio-Conference (A/C) Bridge
The Audio-conference bridge provides a dial-in access facility for organizing audio-conferences for project groups. It is password protected and requires a fixed conference ID for each established group (e.g. project, work-package, etc).
Accessing web-based A/C interface
The URL of the A/C bridge is http://vc.eurescom.eu/
When first accessing the bridge you are required to enter your log-in account. This is your normal Celtic project account.
When logged-in please follow the Quickstart instructions to set-up your profile.
Accessing a Conferences from telephone
To get into a conference with a normal telephone, dial +49-6221-905280
You will hear a voice announcement "Please enter the conference ID". Then dial the 5-digits conference ID number with your touchtone pad (when using an ISDN phone please activate DTMF/ MFV)
Using VoIP access client:
For cost saving reasons you can access the bridge also via VoIP. If you use your PC, a headset, and X-Lite then please check the required settings at: http://vc.eurescom.eu/voip-info.html
If you prefer to use your Smartphone you should use the Linphone App (cost free). It is available for iPhone and for Android (http://www.linphone.org/eng/linphone/news/android.html). The required settings are indicated at the image attached (password for Linphone: Eurescom).
You can easily try out if the access works by dialling in. When you receive the voice to enter the ID and then the message "you are currently the only participant.." then it should work.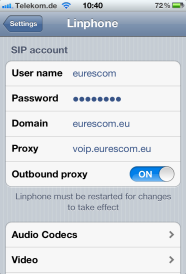 Conference ID per project
Each project will get its own individual conference ID. In particular cases, upon application at Celtic Office, additional conference IDs may be assigned also to work packages. However, this is in most cases not really needed.
Booking an audio-conference
The A/C bridge allows a maximum of 60 simultaneous connections. To avoid overload of the A/C bridge, which may prevent partners from joining a conference all conferences must be booked in advance. It is strongly advised that only the conference chair books the A/C bridge.Booking is done by accessing the link "Schedule". By clicking on the planned calendar day an entry table for that day appears. If you click on the button "Add new entry" a booking form pops up. In this form you select your conference ID. In case no project conference ID has been set-up for your project you should select one free Celtic slot (there are 5 slots), the expected duration, and the number of requested lines (partners).
After having booked the A/C meeting the person in charge for the meeting should send an e-mail notification to all invited participants informing about the meeting details (dial-in number, start/ end time, purpose, agenda, etc) and the selected conference ID for that meeting.
Technical contacts in case of immediate A/C problems
By email: helpdesk(Replace this parenthesis with the @ sign)eurescom.eu
By Phone: Klaas-Pieter Vlieg +49-6221-989213