Project Ideas presented at the CELTIC-NEXT Proposers Day on 28 October 2015 in Antwerp
SooGREEN Consortium extension (Gwénaëlle Delsart, Orange Labs, FRANCE)
SooGREEN objectives
E2E Services (OTT, P2P, Web browsing, IOT/WoT) power consumption for network architecture, user equipment, and datacenters
Services ( VoLTE, M2M, IOT) network and caching Performance Optimization, including VRAN
Service Delivery Interaction between mobile networks and smart-grid: services adaptation, demand-response, renewable energy business model to evaluate investment opportunities
Technical Environment optimization for base stations (power conversion, power back-up) and central offices (cooling)
SooGreen was labelled as CELTIC-NEXT project on 14 November 2014
The project activity has just started: 1st July 2015 up to 30th June 2018
Looking for the following additional expertise to enhance the current consortium:
Industry, Telco, SME, University/Research
New kind of services: OTT, P2P, web browsing, IOT/WOT, VoLTE, M2M, D2
Mobile Network: Optimization of Radio Access Network and Content
Delivery solutions, Energy consumption in Virtual Radio Access Network
Energy : Interaction between service delivery in mobile networks and smart-grid
Contact:
Gwénaëlle Delsart, Orange Labs, SooGREEN Project Coordinator
2 avenue Pierre Marzin, 22307 Lannion Cedex
E-mail: gwenaelle.delsart (at) orange.com
Tel: +33 2 96 07 33 53
https://soogreen.cms.orange-labs.fr/soogreen
Take advantage of mobile waves, WIFI…and the Telcos's data for the environment (Pierre-Henri Simon, Orange, FRANCE)
Mobiles Waves…for forecasting pollution, weather…
Measuring rainfall with mobile phone networks is already used: The electromagnetic signals transmitted from one mobile telecommunication antenna to another are attenuated by rainfall.
The rise and fall of signal strength in each "link" provides an average measure how much rain is between them.
With the new range of wave length (5G…lower wave length than 4G), it can be worthwhile to look for: new use-cases (air pollution sensor), improving existing ones (weather predictions)
Local Waves (WIFI)…for health
It seems that WIFI could be used for cardiac tracking. Therefore, use-cases with local waves could be also researched.
Various sources of data (Local waves, Mobile waves, IoT's data)
could be combined to reinforce the identification of a phenomenon
E.g. air pollution by crossing the analysis of mobile waves with the analysis of the heart rhythm (or others personal signals through local sensor)
Beside their usual business (voice, data), the Telcos could take advantage of:
their network (global and local) and also the future IoT network
their ability to gather and analyse a huge and various amount of data,
… to bring new services to the society in relationship with hot issues (environment, health)
Because network is deployed and the data centers are operational it could be a big opportunity with low investment.
Main competences: transmission, radars, signal processing, data mining, big data analysis
Contact:
Pierre-Henri Simon, Orange, OLPS/OPENSERV
Via: valerie.blavette (at) orange.com
Secure and accurate road weather services composed from vehicle and RWS data (Patricia Ortiz, Innovalia, SPAIN)
Objectives:
In suburban road areas, there are some dangerous hot spots depending on dynamic weather conditions; local large predictions are needed
Sources: Roadside units (RSU) and combined roadside units, Road weather stations (RSU/RWS), Additional instrumentation in vehicles
All vehicles could take benefit, including the ones not equipped with CAN-bus readers, OBUs or Internet access.
A system allowing to warn any driver with practically any kind of on-board instrumentation
Security mechanisms in place (user privacy and content protection to unauthorized access and modification)
Expertise needed:
Meteorological specialists both for large prediction and for computing local prediction using various vehicles and RSU data combined with large predictions.
Vehicle manufacturers / Vehicle OEM manufacturers
Cities and Road authorities
Sensor manufacturers
Network operators
School bus companies and truck operators
Contacts:
Patricia Ortiz, portiz (at) innovalia.org
Timo Sukuvaara, timo.sukuvaara (at) fmi.fi
Bertrand Ducourthial, Bertrand.Ducourthial (at) utc.fr
Smart City Micro Services (Steven Van den Berghe, Sirris, BELGIUM)
What if we could connect, understand and interact with individual things at the scale of a city; and use this to implement common goals (e.g. energy saving, transportation, …)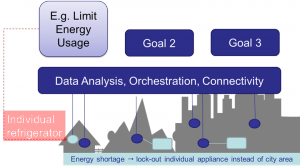 1. Platform for Decision making on large scale heterogeneous IoT deployments.
Heterogeneous Behaviour
Heterogeneous Connectivity
Heterogeneous Goals
2. For things & people (e.g. mobile interactions)
Potential topics:
Contact:
Steven Van den Berghe
Senior Technology Advisor
Sirris
Steven.vandenberghe (at) sirris.be
digiPIL - the Digital Patient Information Leaflet (Alex Vakaloudis, Cork Institute of Technology, IRELAND)
Goal: Replace Patient Information Leaflets (PIL)
Public Health – Easy access to critical medicines information (during the course of treatment)
Patients, Physicians, Pharmacists – Improvement in patient compliance, Increased reporting of Adverse Drug Reactions, No interruptions to medication supply
Pharma companies – Simplification of supply-chain, Improved
Pharmacovigilance through
increased ADR reporting and tackling of counterfeit medication
Outcome:
Recommendations for digital PIL delivery based on user-testing and field trials
Development of platforms to digitise PIL delivery and improve effect of medications
Impacts:
Increase patient awareness of critical medicines information
Improve patient compliance with dosing and administration
Changes to EU Regulations
Schedule: 12-24 months
Looking for:
More Pharmaceutical companies – Access to electronic PIL, Project support/Endorsement
NGOs – Use cases, pilot studies
Regulatory Authorities – Project Endorsement and Collaboration
Contacts:
Dr Chris Edlin, PMTC: chris.edlin (at) pmtc.ie, www.pmtc.ie
Dr. Alex Vakaloudis: alex.vakaloudis (at) cit.ie, www.nimbus.cit.ie
Big Data for Earth Observation (Sébastien Lefèvre, Université Bretagne Sud / IRISA, FRANCE)
Vision: Earth Observation is today in the Big Data era
Motivation: Big Data from Space becomes real but technological challenges remain
Content:
efficient access to EO data
data pre-processing
data mining
visual analytics
evaluation methodology
validation (use cases)
towards exploitation (sustainable architecture and services)
Outcome:
Technological advances in IT that will support EO data/market growth
Impact: New technologies, new services for a fast growing market
Looking for partners/expertise in:
SMEs, Major IT companies, academics (if complementary skills)
Infrastructure for big data, EO-related use cases, Technologies for data analytics
Contact:
Prof. Sébastien Lefèvre, Université Bretagne Sud / IRISA
sebastien.lefevre (at) univ-ubs.fr, Tel: +33 6 45 33 09 41
Campus de Tohannic, 56000 Vannes, France
http://people.irisa.fr/Sebastien.Lefevre, http://www.irisa.fr/obelix
Wearable IoT Network Solution for Work Safety in Hazardous Industrial Environments - WINS@HI (Ayse Belma Kaya, Netas, TURKEY)
Main Goals:
Assessment of Risks and Preventing Accidents
Improving Work Safety of Underground Workers
Content:
Wearable Sensor Networks
Wireless Underground/Indoor Communication
Data Analytics
Network Anomaly Detection and Monitoring Algorithms
Disaster/Emergency Management
Status: Project (WINS@HI) is labelled and about to start
Use Cases:
Mining Industry, Tunnels and Subways, …
Pre-Accident (e.g. health monitoring, location tracking, gas sensoring,
Post-Accident (e.g. guiding rescue teams, location detection)
Contacts:
A.Belma Kaya, R&D Director, belmas (at) netas.com.tr
Ersin Bayramoglu, Project Coordinator, ersin (at) netas.com.tr
Caner Aksoy, Technical Coordinator, caksoy (at) netas.com.tr
5G connected cloud-based video analytics (Cornelius Hellge, Fraunhofer HHI, GERMANY)
Project vision
5G + video compression technologies (HEVC) + adaptive streaming
Enabler for robust mobile transmission of video data from large number of
video sensors to the cloud
Cloud + machine learning
Enabler for large scale video understanding
Project focus
Evaluate 5G specific features for high capacity and mobile links closely following 5G standardization: M-MIMO, Network slicing, low latency
Research on interaction between video compression, adaptive
streaming, wireless link, and machine learning algorithms
Develop use cases and business plan
Expected outcome
Solution for secure, reliable, and adaptive mobile video analytics over 5G mobile links
Develop business cases
Facilitate use cases by new technologies and bring them closer to the market
Contribute to standardization
Schedule
Proposal submission e.g. to next call in 2016
Duration 3 years (Closely linked to 5G standardization timeline)
Contact:
Cornelius Hellge
cornelius.hellge (at) hhi.fraunhofer.de, Tel. +49 30 31002 239
SHAAPING - Support of Healthy Ageing through big data Analysis and multifactorial intervention on Preventing development of frailty in Pre-frail older population (Stefan van Baelen, iMinds, BELGIUM)
Development and deployment in elderly living environment of an open and scalable frame-work to prevent the frailty and launch appropriate interventions to mitigate the potential risk
Context:
By 2050 population 60+ is expected to reach Worldwide: 2 billions; EU: 150 millions, 80 millions in 2008
Frailty:
Progressive decline of healthy and independent living; Affects 15-20% of individuals 65+.
It can be reversible: early detection + appropriate intervention
Expected Impact:
20% reduction of hospital admissions help people to remain healthy and maintain their independence at home;
Reduction the healthcare and care cost and improve the quality of life of family and relatives
Innovation:
Development of large scale steaming data analysis tools
Development of an open, interoperable and scalable platform dealing with sensitive data and privacy and ethic aspects
Characterization and detection of pre-frail persons: launching appropriate interventions to mitigate the potential risk
Targeted market:
Products and services for Ageing well
Silver Economy: $7 trillion per year (3rd largest economy in the world)
3 trillion euros is the wealth of 65+ in EU
Contact:
Hassane Essafi, Program Coordinator, Institut CEA LIST
hassane.essafi (at) cea.fr, Tel: +33 16908 1387
From packet to info-oriented networks (Dimitri Papadimitriou, Alcatel-Lucent Bell N.V., BELGIUM)
Project objectives
Explore first order principles and network models to "design" info GTW
Main challenges
1. Universality and genericity® target replacement or "overlay"
2. Remove dependence on dest. locator-based only exchange
⇒Rethink localization function (e.g. information grouping)
3. Dynamics in spatial distribution of information without specialization (host vs. network nodes)
⇒Principle of performing routing decisions before "localization" becomes inefficient if ever achievable (#routes ~ #data objects)
Project structure and expertise:
Step 1:
– Skills: TCS, comp./alg. learning theory, comp. intelligence (EA)
– Task: procedures, algorithms and proofs
– Outcome: theoretic validation
Step 2:
– Skills: stat. inference, data-driven/unsupervised ML, optimization (combinatorial, continuous, robust)
– Task: programs and numeric evaluation
– Outcome: alg. design choices and performance evaluation
Step 3:
– Skills: software development (HL), experimental evaluation
– Task: develop abstract protocol model/components
– Outcome: demonstrator
Contact:
Dimitri Papadimitriou (Bell Labs)
dimitri.papadimitriou (at) alcatel-lucent.com