CANTILO
CANTILO
Title of my Project Idea
CANTILO
Objective of my Project Idea
5G mmw CAmpus Network with TSN Integration and precise LOcalization services
Technological blocks of 5G are being deployed -> All the possibilities offered by this technology remain to be discovered. Far from being a simple evolution of 4G, 5G stands out by expanding the scope of applications well beyond just communication with cell phones. It is indeed the emergence of connected objects that allows 5G to be offered its full potential.
CANTILO's objective is precisely to exploit the key characteristic of 5G, that of millimeter frequencies.
CANTILO thus aims to develop a 5G campus network in millimeter frequencies with time-sensitive network (TSN) integration and precise location services.
- Characterization of industrial propagation environment
- 5G network planning using raytracing and PHY modelling (beamforming and hardware impairments)
- Setup of 5G mmW Campus Network with industrial UEs
- Reliable TSN traffic over the mmW network
- Development of localization solutions
Types of partners being sought
1 - The current consortium involves Germany and France. We are looking for a third country to secure the proposal. 2 - We are looking for an industrial partner able to deploy and assess our private 5G network into its industrial infrastructure. 3 - We also look for a partner able to deliver the digital platform to complete our analogue Front-End platform.
Proposal key words
A8 Network architectures and connectivity
Contact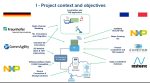 Name:
Dominique Défossez
Company:
NXP Semiconductors France
Type of Organisation:
Industry
Country:
France
Web:
http://www.nxp.com
Telephone:
+33627111421
Brief description of my Organisation
NXP is a Semiconductors leader in 5G mmWave technology
Please complete the form to contact this Proposal/Idea