This CELTIC-NEXT Spring Call 2023 is now closed, the deadline for proposal submissions was on the 24th of May at 11:59 pm CEST.
CELTIC-NEXT proudly received 19 proposals for the Spring Call 2023 closing last week!
This represents a total of 107 partners including, SMEs, start-ups, large industries, academia and RTO, for a total requested budget of 60 mio€ and 1100 FTE!
In total, these 19 proposals came from 22 different countries from all over the world: Austria, Belgium, Canada, Switzerland, Czechia, Germany, Spain, Finland, France, Hungary, Israel, the Republic of Korea, Luxembourg, Poland, Portugal, Roumania, Serbia, Singapore, Turkey, United Kingdom and South Africa!
CELTIC-NEXT Calls are the perfect opportunity to enable projects in the field of next-generation communications for the digital society that contribute to a sustainable world.
By applying and participating in any CELTIC-NEXT Calls, your organization can access national public funding for your R&D project.
Until today, CELTIC has labelled, funded and performed 176 projects in all their research areas with a total volume of more than 1.2 billion Euros. By facilitating these collaborative R&D projects, the CELTIC cluster has made a great contribution to helping Europe to stay at the competitive edge of the information and communications technologies industry.
The industry-driven Cluster CELTIC and its vision has been laid in the CELTIC Scope and Research Areas document.
For the last Spring Call 2023, Proposals that address any of the topics of the CELTIC Strategic Roadmap in this bottom-up call were welcomed, in addition to the roadmap, CELTIC is also looking into Non-Terrestrial-Networks and Terrestrial Networks convergence, Digitalisation of the Economy thanks to ICT technologies, Clean Growth, Remote Health & Care, Advanced Manufacturing, Critical Coms for Emergencies, Open RAN, Private Networks, AI for Massive MIMO, IoT, I-IOT, ICT Technologies for supporting Metaverses, and 6G topics.
CELTIC-NEXT is proud and thankful to have organised the CELTIC Proposers Brokerage Day on the 17th of March in Paris at Bpifrance Le Hub to allow participants to share their ideas, present their proposals and build their consortium!
Participating in this Event to close the year by joining CELTIC-NEXT Community, was an opportunity to celebrate the programme's success and learn about the next opportunities to keep engaged.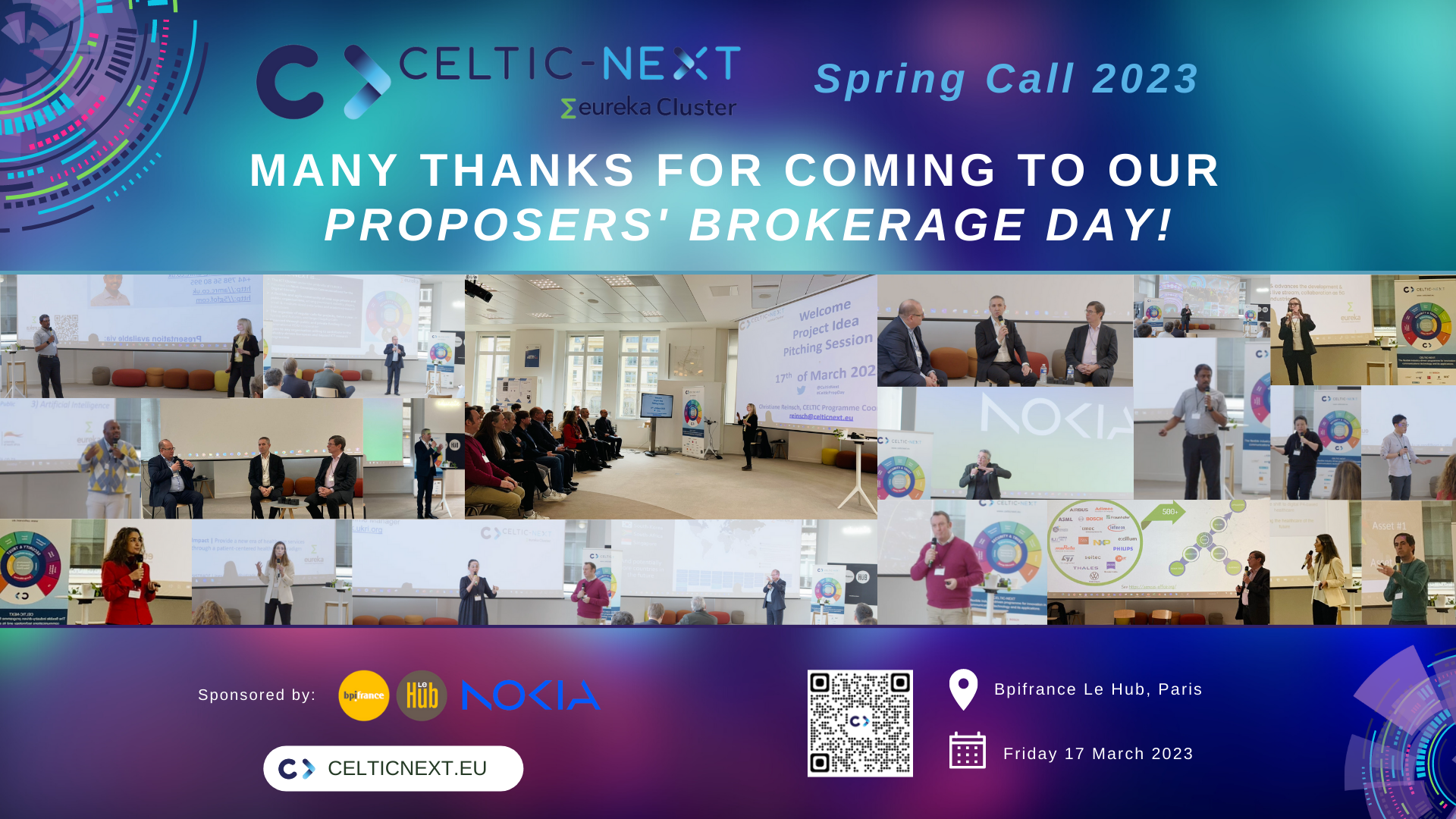 Please do not hesitate to get in contact with the CELTIC Office for further information.
Don't miss out on any information by subscribing to our newsletter!