Bottom-up philosophy

CELTIC-NEXT gives proposers almost limitless freedom in regard to what research topic they can explore in their ICT research projects. The philosophy of the programme is to facilitate projects in a bottom-up way, thus offering projects the chance of both evolutionary as well as disruptive innovation in all relevant ICT areas, without limiting their creativity and ambition.
CELTIC-NEXT's mission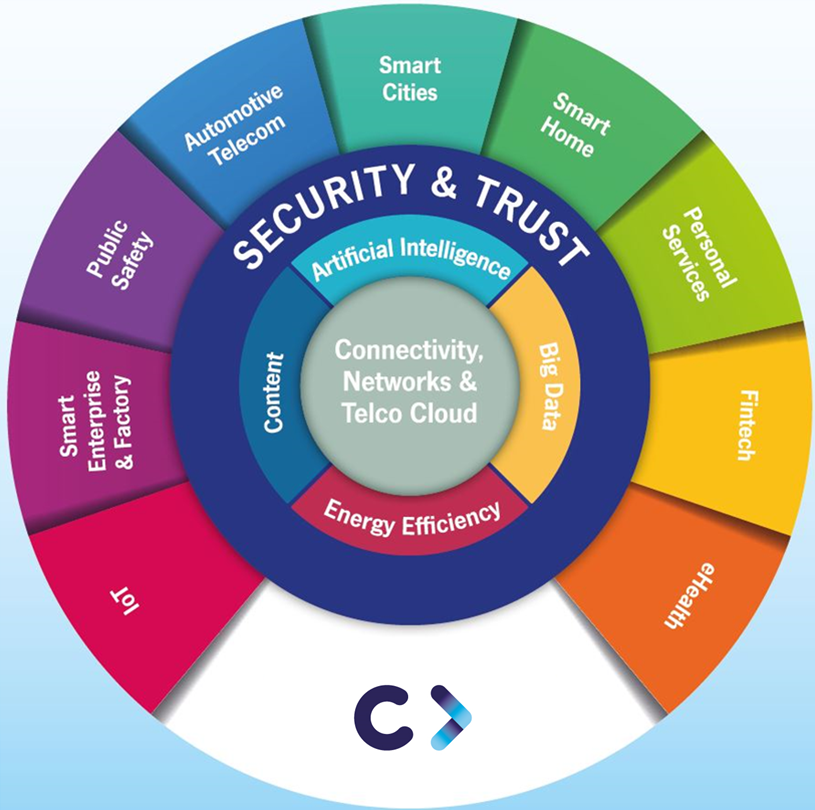 The mission of CELTIC-NEXT for the next 4 years is to foster our Eureka collaborative RD&I program for the ICT community, and to accelerate the deployment and take up of advanced ICT services, employing the new network concepts of 5G and leading to the ownership and implementation of 6G in Europe. It is crucial to consolidate the position of European manufacturers and service providers, with a high degree of European sovereignty, as globally leading suppliers of the advanced ICT equipment and services needed for the digital revolution.
It is a strong ambition of CELTIC-NEXT to assist European National Authorities, European Industry, and European Societies to access the societal benefits, competitive advantages, and commercial returns of being at the forefront of the new digital society.
Specifically, CELTIC-NEXT will actively encourage the ICT industry collaboration with other industry verticals to facilitate the adoption of the advanced ICT technologies into the business models and processes of all industry sectors. The focus of the CELTIC-NEXT approach is to consider the issues in a holistic way considering the "end-to-end" perspective of the new communications services – including an understanding the economic, environmental, and societal benefits and the new extensive use of data.  Over recent years the environmental aspects of using advances communications services not only to monitor and supervise energy consuming activities, but also to investigate where advanced communications can improve business models and processes by replacing activities with ICT services and thereby reducing carbon footprints for many sectors.
CELTIC-NEXT Roadmap Rationale for 2021-2025
The new CELTIC-NEXT approach will continue to use the successful bottom-up industry-driven technique, aligned with supporting large focused "flagship" initiatives solving specific issues of strategic importance, and also supporting new Thematic issues as and when they arise in the Eureka cluster community.  The unique eureka approach of developing a combined and coordinated strategy between public authorities and industry to achieve both national ambitions and commercial goals in an efficient way has been shown to enable new technologies and new markets in an easier and faster manner than other large pan-European programs.
There are a number of critical technological and techno-societal issues that need to be addressed in the coming years that are only partially by other research instruments in Europe. From a technological standpoint, Networking and Cloud Enablers addressing and using technology from such areas as cyber security, artificial intelligence, 5G and beyond, 6G, FinTech, Big Data, business analytics, and IoT are considered as important orientations to develop.
A special focus of CELTIC-NEXT will be on connectivity applications and services serving the vertical sectors such as content (video, gaming), e-health, smart cities, agriculture, mobility, energy, automotive, e-commerce, and industry 4.0 / manufacturing / logistics. Those verticals are equally important to advance, along with optimising and improving efficiency and reliability with the best end-to-end connectivity and security. The evolution of ICT services over the next period will be achieved via a partnership model where the vertical sectors collaborate in determining their ICT solutions, achieving cross-fertilization between verticals and ICT communities. This will be a key focus of the CELTIC-NEXT end-to-end perspective. Another key issue for CELTIC-NEXT will be to develop communications infrastructures and services that can adapt to the requirements of various business sectors. The needs for communications between vehicles are indeed quite different than the needs for piloting electrical power in buildings and houses. The same applies to the virtual and immersive reality techniques that will become a critical element in the health and media industry in the coming years. There will also be many unique challenges behind innovative manufacturing processes that must be supported by one ubiquitous infrastructure.
New communications themes will emerge in the next period to consider the impact of the revolution in media and social networks. We can expect that the ICT community will have to address issues emerging from the dramatic impact of fake news and false information dissemination where lawful techniques will be needed to combat misuse of communications and to re-establish trust in the fully interconnected society of the future.
Another big change causing a dramatic uptake in the use and deployment of ICT services in 2021 has been stimulated by the global and national responses to the COVID 19 virus outbreak. Virtual meetings and home working are now the new normal and it is quite likely that these shifts to ICT based operations will remain a core part of future operational strategies for all aspects of our working and social lives for the foreseeable future. This increases the pressure to ensure we have the most performant, reliable, secure, and cost-effective communications infrastructures to support our businesses and society going forward.
We expect that many of the CELTIC-NEXT projects will define and develop self-adaptable solutions, able to fit the needs of many different sectors and societal challenges. CELTIC-NEXT with its end-to-end approach is key for allowing the development of dedicated applications using the network with all the required features for a given economic sector.
The topics listed above are not prescriptive and are only meant to give you some idea of the wide scope. Any topic related to the CELTIC-NEXT vision of a Smart Connected World is eligible.
A large range of possible research areas are described in detail in CELTIC-NEXT – Scope and Research Areas