Celtic Office, c/o Eurescom, Wieblinger Weg 19/4, 69123 Heidelberg, Germany
By Plane
The recommended airport is Frankfurt which is approximately 80 km away from Heidelberg, i.e. less than one hour driving. Alternatives are Stuttgart (130 km), Strasbourg (120 km) or Hahn (160 km; used by some airlines mainly from UK and Ireland).
If you arrive at Frankfurt you have the following possibilities to continue to Heidelberg:
1) Lufthansa Airport Bus
This Shuttle Bus terminates at Bahnhofstraße in Heidelberg. Charges: one way € 27.00 (with a Lufthansa flight ticket), € 29.00 (without a Lufthansa flight ticket). Pre-booking is recommended. Please check their site and book from there: http://frankfurt-airport-shuttles.de/en/home-2/
2) Limousine Service (TLS Minibus)
Bookings should be done in advance directly at TLS Transfer & Limousine Service: Tel. +49 6221 770077 or via their online booking form at https://www.tls-heidelberg.de/en/
Note: Due to the Corona pandemic only single trips are offered – 135 Euro per trip (instead of 150 Euro).
By Car
DIRECTIONS TO Celtic, c/o Eurescom, Wieblinger Weg 19/4 – 69123 HEIDELBERG – Germany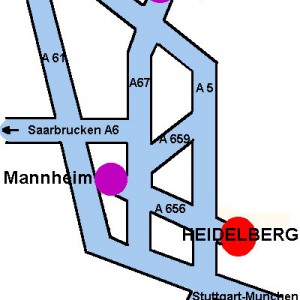 Coming via the A5 from Frankfurt or Karlsruhe, leave the motorway at the junction "Heidelberger Kreuz" in the direction of Heidelberg. The motorway ends and turns into the B37. At the first junction, take the left lane at the traffic light, and turn sharp left into Mannheimer Str. Then turn again left into Steinzeitweg and right into Wieblinger Weg.

Celtic is co-located with Eurescom GmbH.
By Train
For visitors from France, in particular from Paris, using the train (TGV or ICE) is a very convenient way to come to Heidelberg. It's direct to Mannheim (about 3 hours) where you need to change to Heidelberg.

From the main station in Heidelberg you can reach us by taxi (takes approximately 5 mins) or you can take the tram line 5 in the direction of Mannheim and get off the tram at the second stop "Berufsschule" (takes approximately 2 minutes). You will see HIS – Heidelberg International School. From there turn left into Wieblinger Weg. After 100m you will see the Eurescom building.
Please check the train timetable for more details.
If you need some assistance please call the Celtic Office at +49 6221 989 0 or send an Email to office@celticnext.
Hotels
Hotels within walking distance to Celtic Office / Eurescom
Marriott
Vangerowstraße 16
Tel: +49 6221 9080
Hotel Ibis (at the main station)
Willy Brandt Platz 3
Tel: +49 6221 9130
Premier Inn
Kurfürsten-Anlage 23, Heidelberg
Tram number 5 stops directly in front and takes you in less than 10 min to Berufsschule from where it's only a short walk.
Hotels located in the old city of Heidelberg
Weisser Bock
Große Mantelgasse 24
Tel: +49 6221 9000 0
Vier Jahreszeiten
Haspelgasse 2
Tel: +49 6221 24164
Holländer Hof
Neckarstaden 66
Tel: +49 6221 6050-0
Goldene Rose
St. Annagasse 7
Tel: +49 6221 905490