Beyond CMOS for Beyond 5G THz Wireless Communications and Sensing
Beyond CMOS for Beyond 5G THz Wireless Communications and Sensing

Expertise Short Title
Beyond CMOS for Beyond 5G THz Wireless Communications and Sensing
Expertise offered
The business unit High Frequency Electronics focuses on mm-wave and THz research on device level, circuit level and module level for frequencies up to 1 THz. This involves epitaxial growth of III-V heterostructures, FEOL and BEOL processing, wafer transfer to CMOS and silicon substrates, transistor modeling, integrated circuit design using the in-house 20-nm InGaAs HEMT technology, RF and mixed-signal characterization, prototyping, small volume production, advanced packaging and antenna design and fabrication.
Expertise key words
Contact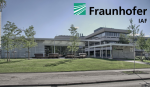 Name:
Thomas Merkle
Company:
Fraunhofer Institute for Applied Solid State Physics (IAF)
Type of Organisation:
Research
Country:
Germany
Web:
https://www.iaf.fraunhofer.de/en.html
Telephone:
+49 761 5159 555
Brief description of my Organisation
The core competencies of the Fraunhofer Institute for Applied Solid State Physics (IAF) in Freiburg, Germany, comprise the whole value chain of III/V compound semiconductor technologies. These are materials research, process development, circuit design and manufacture, module integration and subsystem assembly. In 2018 the total staff of the institute was 272 and the annual budget was 35 million Euros. The total floor space for offices and laboratories is 8000 sqm, with a clean room of 1000 sqm used for wafer epitaxy, and processing of device, circuits and packaging.
Please complete the form to contact this Expertise Offer