Holographic 3D Light Field Display Technologies and Applications
Holographic 3D Light Field Display Technologies and Applications
Expertise Short Title
Holographic 3D Light Field Display Technologies and Applications
Expertise offered
Holoxica is a research-intensive SME who develop disruptive holographic 3D solutions for professional applications. The technology developed by Holoxica is naturally viewable, with dynamic, full colour 3D images appearing in mid-air, just like "Star Wars". The Holoxica next-generation display technology is a step improvement over current AR/VR systems that use wearable goggles or glasses. Light field 3D displays do not require any eye-wear, and multiple people can view the 3D image simultaneously and interact with it. People have started to avoid using AR/VR headsets for fear of Covid infection, so they are now turning to alternative technologies like Light Field and holographic 3D displays, which are more expensive but they offer additional benefits like multiple viewers and comfort. We have seen sales of these devices grow as a result and we expect this to increase.
Holoxica has have an experienced team delivering on extreme hardware, software and 3D graphics projects. They offer 3D light-field displays are capable of showing colour motion video, as well as static digital holograms. They are the only company that can convert any kind of 3D digital data into a hologram. The technology is positioned beyond current AR/VR and can be a direct replacement for this. The main applications are in professional (B2B) medical, scientific, industrial, military and commercial domains.
Holoxica has built several generations of holographic video displays from simple segmented systems to HUDs, volumetric and light-field displays. Holoxica's core expertise is building "full stack" solutions comprising 3D hardware (light field displays and capture systems), computation engines (GPU processing), HMI and networking. In particular, we offer computer graphics apps and animations that run on top of this hardware. Examples of these apps include Holoviewer (3D visualisation), Volumeviewer (medical imaging) and Telepresence (real-time 3D teleconferencing).
Expertise key words
B14 eHealth related services and applications
B16 eLearning / digital school related services and applications
B17 Entertainment services and applications
B18 Gaming services and applications
B19 Location related services (incl. navigation)
B22 Disaster recovery, safety
B23 Future end-to-end services
B3 Multimedia and content Services
B4 Audio/ Video Services (incl. image processing)
B9 Teleworking
C2 Future interfaces
C7 Future Displays / Enhanced reality
D2 Future Internet Use-case scenarios / Test environment
E5 Smart Learning / Digital School
E7 eHealth
K2 Artificial Intelligence
Contact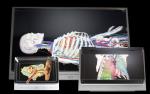 Name:
Wendy Lamin
Company:
Holoxica Limited
Type of Organisation:
SME
Country:
United Kingdom
Web:
https://www.holoxica.com
Telephone:
Brief description of my Organisation
Holoxica is a systems integration and solutions company, offering a wide range of services. These include feasibility studies, consultancy, design, simulation all the way to proof of concept and prototypes.

Holoxica has extensive, over 55 cumulative years', experience in managing high tech projects in both consumer and professional electronics. This means taking ideas to proof of concept, prototyping and products. Our team's cores areas of expertise include: medical imaging, 3D graphics software, embedded systems, 3D graphics design and display hardware engineering. We have a solid track record in running advanced international projects.

We offer our services on a consultancy basis for full solutions from initial ideas and designs to simulations, mock-ups, testing & implementations.

We work with a wider network of partners to fabricate key components, which are then integrated into a "full stack" solution comprising hardware, software and content. Our core expertise is in the following areas:
• Holographic/diffractive optics
• Digital holograms
• Embedded electronics (sensors, FPGA, microprocessors)
• Software: graphics, real-time, applications
• Artificial Intelligence (for user interfacing)
• Computer graphics design and content

We can realise virtual and physical prototypes. We offer complete end-to-end solutions including small-series manufacturing, assembly, integration and test. Prototypes can work stand-alone or be integrated into the client's product.

We fabricate key components through our network of partners, which can include diffractive optical elements, holographic elements, digital holograms, custom optics or other photonic devices. The components are integrated into a system combining other optics, electronics (including custom PCBs) and mechanics (includes 3D printing).

On the software side, we have the complete stack from low-level software (drivers, control) through to algorithms (including AI) and apps. We are also able to produce the 3D content and graphics for presentation to the end-user.

Please complete the form to contact this Expertise Offer