Finished Project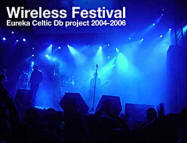 DB
DB – Wireless Festival
Pro

ject Coordinator
Project Consortium
Ulf Essler
Stockholm School of Economics
Sweden
e-mail: ulf.essler (at) hhs.se

Stockholm School of Economics, SE
Blekinge Tekniska Högskolan, SE
Ericsson AB, SE
Musiclink AS, SE
Telia Sonera, SE
Helsinki Institute for Information Technology – HIIT, FI
Telia Sonera, FI
This is a "Celtic" project;
Project Key Information

Start date

End date

Budget (total)

Effort (total)

Project-ID

May 2004
October 2006
2.9 MEuro
32 PY
CP1-019
Abstract
The Gothia Cup 2003 scheduled 3920 soccer games within the municipality of Gothenburg during one week in July 2003. The Cup assembled 1380 young teams from all over the world. The event generated 320000 tourist nights and an estimated 30 MEuro income for the town of Gothenburg. The Gothia cup is an example of one of many re-occurring, time-limited, geographically focused, large scale public events that stretch both physical and telecommunication infrastructures to their limits but at the same time generate a variety of business opportunities for both local and global actors.
The project will study, prototype and evaluate solutions for large-scale events, to assess the business, user, service and communication aspects.
The business models and value chains for traditional telecom services are based on a long-term view to justify the necessary huge investments. The value constellations for short-term, large-scale events have different priorities, as time for generating value is short. It is not unthinkable that we find opportunities for companies similar to "light and sound" companies that rent out and manage equipment during events. The market for high level "facilitation management" is expanding rapidly, as is the market for outsourcing.
Understanding the needs and behaviour of users is key to the success of our project. This includes work before the events to clearly define the target segment and its sub-structures.
Based on that understanding, we will prepare and conduct user studies for three major events. An ethnographic approach will be used for our user studies in order to gain a deep understanding of our customers' explicit needs (including users, organizers and suppliers) as well as their implicit desires in relation to our ideas for new products and services.
The first target event that the consortium will study is the Hultsfred Rockfestival 2004 to assess the necessary background for two major follow-up field trials in 2005 and 2006.
The Hultsfred Rockfestival in Sweden has attracted as many as 30000 visitors per event over the last four years. Since SMS and MMS systems during the festival are often overloaded and voice services are difficult to use due to loud noise, the festival organizers rely on human runners with small notes to contact one of their 5000 voluntary helpers. Runners can be regarded as a communication channel with poor throughput and long delays but offering the only reliable alternative so far in a demanding environment.
There is an already identified need for improved logistics solutions. The project has full access to all results generated by an independent project run by Blekinge Institute of Technology (BTH). BTH will test new concepts for wireless logistic support at the Hultsfred festival 2004, which we will extend for Hultsfred 2005. A last major trial in 2006 will focus on on-site and off-site visitors, and possibly involve a new type of event, e.g., the Gothia Cup 2006.
The consortium consists of event organizing enterprises and content providers (SMEs: Musiclink AB, Migoli), large telecom operators, network and terminal equipment suppliers (TeliaSonera Sweden and TeliaSonera Finland, Ericsson), user and interaction prototyping expertise (SME: Light Minds), and academic organizations providing competence on business, user, and software aspects (Stockholm School of Economics, Blekinge Inst. of Technology, Helsinki Inst. for Information Technology).
Focus areas
Study, prototype and evaluate solutions for large-scale events

Assess business, user, service and communication aspects

Understand needs and behavior of users
Expected outcome
Identify viable business models for wireless telecom services based on mobile devices for participants of all kinds

Develop such economically viable services and test them as prototypes on event participants