Finished Project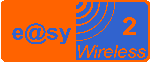 EW-2
Easy Wireless 2

Pro

ject Coordinator
Project Consortium
Jarmo Prokkola
VTT
Finland
e-mail: jarmo.prokkola<at>vtt.fi

Creative IT, ES (until end 2010)
Univ. Politecnica de Madrid, ES (until end 2010)
Universidad Carlos III, ES (until end 2010)
Alcatel-Lucent Espana SA, ES (until end 2010)
BaseN Corporation, FI (until end 2010)
Nethawk Oyj, FI
VTT, FI
This is a "Celtic" project;
Project Key Information

Start date

End date

Budget (total)

Effort (total)

Project-ID

September 2008
August 2011
3.9 M€
40.0 PY
CP5-007
Abstract
The widespread popularity of wireless-enabled portable devices combined with the availability of networks for those devices ; from inexpensive local WLAN's and PAN to Cellular, from longer range MAN to Satellite, stimulates the provisioning of distributed services to a wide variety of mobile client terminals, with heterogeneous resources. Even though capabilities of devices and networks are continually increasing, the design of mobile applications will continue to be constrained by high connectivity costs, bandwidth limitations , delay fluctuations and local availability, these functions also abruptly changing due to client mobility among wireless cells during service provisioning.
Nevertheless ; and this is the main idea behind Easywireless 2, for some specific services like emergencies or various degrees of premium services there is the need to guarantee , reserve and manage those scarce bandwidth resources to ensure that these specially contracted services are provided according to the required service profile. This project, a continuation of previous activities by the (2004) Easy Wireless Project, aims to develop the basic principles and the technical and managerial tools to perform the profitable operation of these networks.
Easy Wireless 2 addresses such situation focusing on service continuity on mobile and wireless networks; that is, finding out useful solutions for nomadic users. This calls for novel middleware solutions not only to support different forms of mobility and connectivity in wired-wireless integrated networks, but also to perform personalized service reconfiguration/ adaptation depending on client characteristics and in response to changes of wireless access locality. Heterogeneous networking environment also creates a need for QoS measurements and monitoring, which helps e.g., application adaptation and handover triggering. Therefore, Easy Wireless 2 addresses issues as QoS, roaming, security, measurements/monitoring and inter-working between heterogeneous networks from core protocol technologies to network and user cost management.
The results of EASY WIRELESS 2 will be proved in a challenging deployment combined scenario that includes public transport and emergency situations, integrating mobile devices with limited and heterogeneous capabilities that roam among wireless access localities during service provisioning.