Finished Project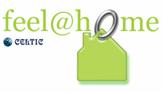 Feel@Home
Full Extended Experience of living at Home

Pro

ject Coordinator
Project Consortium
Romain Carbou
France Telecom R&D
France
e-mail: romain.carbou<at>orange-ftgroup.com
France Telecom R&D, FR
Ikerlan, ES
Creativ IT, ES
Nomovik Ltd., FI
CNRS, FR
Telefonica I+D, ES
Energy Sistem Soyntec, ES
University of Malaga, ES
Telecom Management Sud Paris, FR
This is a "Celtic" project;
Project Key Information

Start date

End date

Budget (total)

Effort (total)

Project-ID

June 2008
December 2010
6.3 M€
77 PY
CP5-008
Abstract
Feel@Home is a three-year project aiming at the mass market adoption of advanced audiovisual networked services, at home and everywhere. Feel@Home will develop an integrated open architecture and business proposals to enable an increasingly proactive participation of residential users in the usage of ICT.
To develop the Digital Home market, Feel@Home will provide new solutions to fully implement the concept, including in particular the management of the digital entertainment, the automatic Home Area Network management and the handling of multi-user service offerings. These will enabler the growth of commercial solutions integrating communications and home automation applications in a market still in its infancy.
To make the Digital Home transparent (i.e. "Ambience Intelligence"), Feel@Home will develop services that will adapt themselves whatever the usage and the context of the users. This will only be possible if the environment and user context can be detected, analysed and then fed into the "heart of the Digital Home" to give the system the opportunity to adapt, to learn and to take decisions in an autonomous way.
To link Digital Homes together through the Internet and access the different services and information from the outside, Feel@Home will deliver secure and trustworthy services transparent for the final users, without any complex procedure to connect.
To associate the Digital Home with the new Web 2.0 paradigm, Feel@Home will further link home communities in grids, not only to share content information around communication and entertainment but also in the fields of security, comfort, social welfare, etc.
Additionally, Feel@Home will provide a framework to give the European telco industry a lead in the development of Internet Multimedia Systems for future converged services mainly in the home domain.
Finally, user groups will be involved during the designing and the testing phases to help in evaluating the technologies and relevance for the market.
Nota: Feel@Home project is compliant to Networked Electronic Multimedia (NEM) Strategic Research Agenda objectives, it covers many topics mainly dealing with home networking aspects.