Gigabits Over the Legacy Drop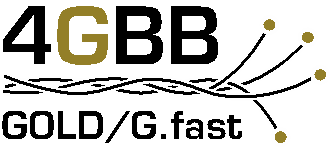 Project Key Information
Project Status: Finished

Start Date: January 2015

End Date: December 2017
Budget (total): 3566.81 K€
Effort:  28.35 PY
Project-ID: C2014/2-6
Project Consortium
Lund University, Sweden
Nokia Bell N.V., Belgium
ADTRAN GmbH, Germany
Deutsche Telekom AG, Germany
Orange SA, France
SAGEMCOM, France
Sckipio Technologies, Israel
TNO, Netherlands
Marvell Hispania S.L., Spain
Telnet Redes Inteligentes SA, Spain
Ericsson AB (EAB), Sweden
BT (British Telecom), UK
Southampton University, UK
Newcastle University, UK

Abstract
The next European leap in broadband capacity has been prepared through the two CELTIC projects 4GBB and HFCC. The standardization of the hybrid fibre-copper broadband access technology G.fast was initiated through 4GBB and nurtured to near completion of its first version by HFCC. We now propose a final project, GOLD, focusing on
A) finishing the first standard and
B) developing and spreading know-how around deployment practices in order to ensure that G.fast becomes a market success.
The project will also
C) boost the usability of G.fast towards dense city areas by developing alternative backhauling option based on copper instead of fibre. This simplifies G.fast deployment significantly (less fibre digging) and opens a potential mass market for G.fast, and at last,
D) to go beyond the first standard by initiating the planned second version of the standard promising a doubling of the bandwidth reaching 200 MHz, by exploring multiple-gigabit copper access.