Survivable Ad Hoc Network for 4G and beyond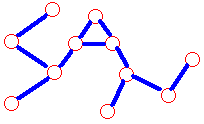 Project Key Information
Project Status: Finished

Start Date: November 2011
End Date: October 2015
Budget (total): 10719 K€
Effort:  113,5 PY
Project-ID: CP08-011
Project Coordinator
Name: Serge Delmas

Company: Cassidian SAS

Country: France

E-mail: serge.delmas(at)airbus.com
Project Consortium
Airbus DS, France
CEA-LETI,  France
C2 Tech Bilisim Teknolojileri A.S., Turkey
Green Communication, France
INDRA Sistemas (SA),  Spain
Mobilicom Ltd., Israel
Montimage, France
Smart Com, Slovenia
TTI Norte, S.L., Spain
UPE-MLV (LIGM Lab), France
Abstract
SAN project addresses the Mobile access "Broadband Infrastructures" core technical domain of CELTIC, and it spans several specific new topics, identified by the 2010 version of the Purple Book as "topics on which an increased research effort must be allocated", for example 3.4. Terminals, 4.5 Ubiquitous connectivity and networks, and 4.6 Enlarging existing research areas.
SAN project aims at developing a 4G broadband mobile wireless communication system endowed with a wide range of ad-hoc and relaying/mesh routing capabilities. SAN will provide beyond state of the art solution based on innovative concept: rapidly deployable, self-configurable mobile wireless network without any need of fixed infrastructures, external control/management systems. Technology to be developed in the framework of the SAN project will underlie LTE radio interface meaning that each element of the SAN network can communicate also through the standard LTE network. SAN will provide robust and cost-efficient solution for rescue teams in different disaster scenarios when other wireless networks are unavailable.
SAN will impact international standards, improve competitiveness of European industry vs Asian and American counterparts, and substantially improve support for some important application areas, such as rescue services.
The potential commercial application of the developed technology is foreseen just a few years after a successful project completion. By the time LTE (considered as pre-4G technology) is widely available and demand grows in the market for more advanced technologies, SAN technologies will already be ripe, competitive and able to augment pre-4G and 4G systems with their unique features of autonomous operation, dynamic topology support, etc. Thus, with SAN technologies available to them industrial partners will be in a very competitive position in the mobile communications market, which yields new revenues and new jobs both, for project partners and for respective national economies.
SAN partners are already positioned in the wireless mobile communications market. Consequently they have clear and strong interest in exploiting SAN results to retain or strengthen their position both, in terms of internationally relevant R&D and in terms of commercial deployments.