Finished Project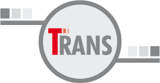 TRANS
Traffic-Aware Networks and Services

Pro

ject Coordinator
Project Consortium
Daniel Kofman
RAD
Israel
e-mail: daniel_k<at>rad.com

RAD Data Communications, IL
Alcatel-Lucent France, FR
Telecom Paris Tech, FR
France Telecom Orange Labs, Fr
Ipanema, FR
Universität Würzburg, DE
University of Tessaly, GR
This is a "Celtic" project;
Project Key Information

Start date

End date

Budget (total)

Effort (total)

Project-ID

September 2008
February 2011
4.6 M€
42.2 PY
CP5-025
Abstract
TRANS will carry out leading-edge research with the aim to design, develop and demonstrate a tightly integrated network and service overlay architecture with advanced traffic-aware and self-organisation functionality that will significantly facilitate services ubiquity and mobility of services, while supporting evolved networking business requirements. Network elements implementing this functionality will also be designed.
The architectural concept will be validated in three different contexts, each of which related with the provision of a different service over a convergent network. They will address:
1. A new generation of VPNs, the so-called Business-process-aware Virtual Private Networks (BVPNs).
2. The global mobility of video services, crossing terminals and technology borders and their related requirements in terms of media processing.
3. Smart Caching and network acceleration overlays, in particular for the support of video services and optimisation of P2P applications.
The traffic-aware and resources-aware functionality will be shared by the different services over a convergent network for global resources optimisation and to significantly reduce management complexity, thereby accelerating the deployment of these evolved services.
The outcome will impact network and service providers, enterprises, application developers and end users. New revenues will be generated through the provisioning of evolved services and new approaches provided to using existing services, reducing the corresponding operational costs. The real needs of companies' communication services will be satisfied by the new generation of BVPNs, improving business effectiveness and reducing their operational costs. From a personal and community services point of view, independence of services from location, access technology and terminal type will be provided.
An integrated demonstrator will be developed to validate the approach.