Advanced solutions for secure and flexible networking
The Celtic-Plus project SASER-ADVAntage-NET developed an advanced technology for secure and flexible networks, focusing on the physical and the network management layers. The project run from August 2012 until December 2015 and involved seven partners from German industry and academia. As a Celtic-Plus project it was carried out within the framework of EUREKA and received public funding from the German Ministry for Education and Research (BMBF) for parts of their effort.
The achieved results pushed current networking technology beyond the current state of the art and thus helped technology invented and made in Europe stay at the competitive edge necessary to be successful in the global market of cutting edge technical products.
From the various findings, prototypes and evaluations performed in the project, the following three examples have been selected to give an impression of the advanced technology developed in the project.
Optical transmission of a 400 Gbps-channel for distances able to interconnect data centers was developed using low cost intensity-modulation / direct-detection formats like PAM-4 and discrete multitone (DMT) transmission. The operation of this high-speed transmission technology was demonstrated for the first time in a secure system together with a 100 Gbps encrypted channel.

A novel coherent transmission format for long-distance transmission was developed and demonstrated utilizing multidimensional signal modulation. An improvement of 1.2 dB was achieved over conventional DP-BPSK modulation.
Building upon results of the project, a field trial was performed in the Polish PIONIER research network, transmitting channels over 385 km with flexible data rates between 200 and 400 Gbps using variable modulation formats. This trial demonstrated the feasibility of using a single type of transponder for different performance requirements in a deployed optical network.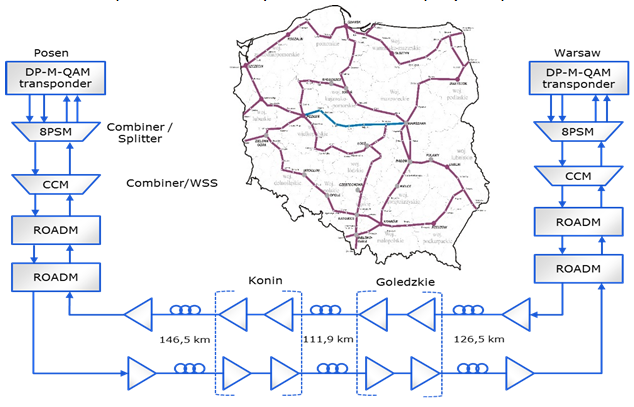 For further information see the SASER Websites:
https://www.celticnext.eu/project-saser-advantage-net/
http://projects.celticplus.eu/saser/