CELTIC AI-NET Public Event – 25 May 2023, Palais des Congrès Paris Saclay, Massy
CELTIC AI-NET Public Event – CELTIC Flagship Project for Accelerating digital transformation in Europe by Intelligent NETwork Automation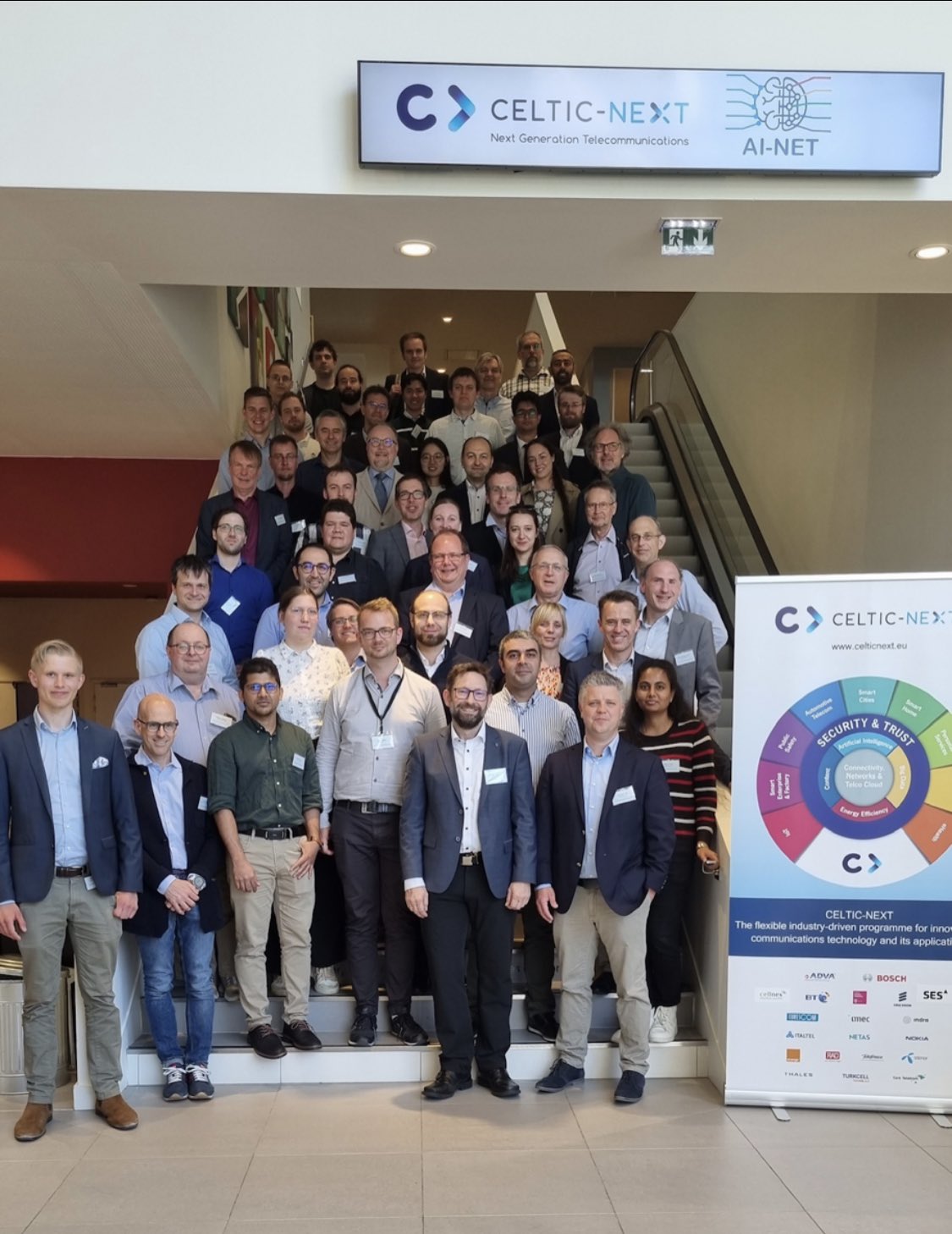 Massy, France, 25th of May 2023
CELTIC flagship project AI-NET held its high-level plenary meeting in the Palais des Congrès Paris Saclay, in Massy in France.
Representatives from the public authorities of Germany, Sweden and Finland as well as representatives of the AI-NET project consortium, comprising major players from industry (large and SMEs), research organisations, and academia, presented the visions and goals of the ambitious European project to an audience of more than 150 participants were present.
AI-NET aims at 'Accelerating Digital Transformation in Europe with Intelligent Network Automation'. The project is addressing the challenge that the current centralised cloud infrastructure is not adequate for serving the requirements of the digital transformation in Europe. AI-NET is built on the premise that three technologies need to be combined to shape a new secure service and application platform: 5G/6G, edge-centric computing, and artificial intelligence.
The main goal of the AI-NET project is to provide enablers and solutions for high-performance services deployed and operated at the network edge. AI-NET is using artificial intelligence for complementing traditional optimisation algorithms, in order to manage vastly increased network complexity.
The event was opened by the welcomed words of David Kennedy, Celtic-Next Chairperson of Celtic Core Group, followed by the keynotes of Emilio Carrera Felix, EIC Actions Coordinator at BpiFrance and Jean-Luc Beylat, Vice President of Ecosystems at Nokia France.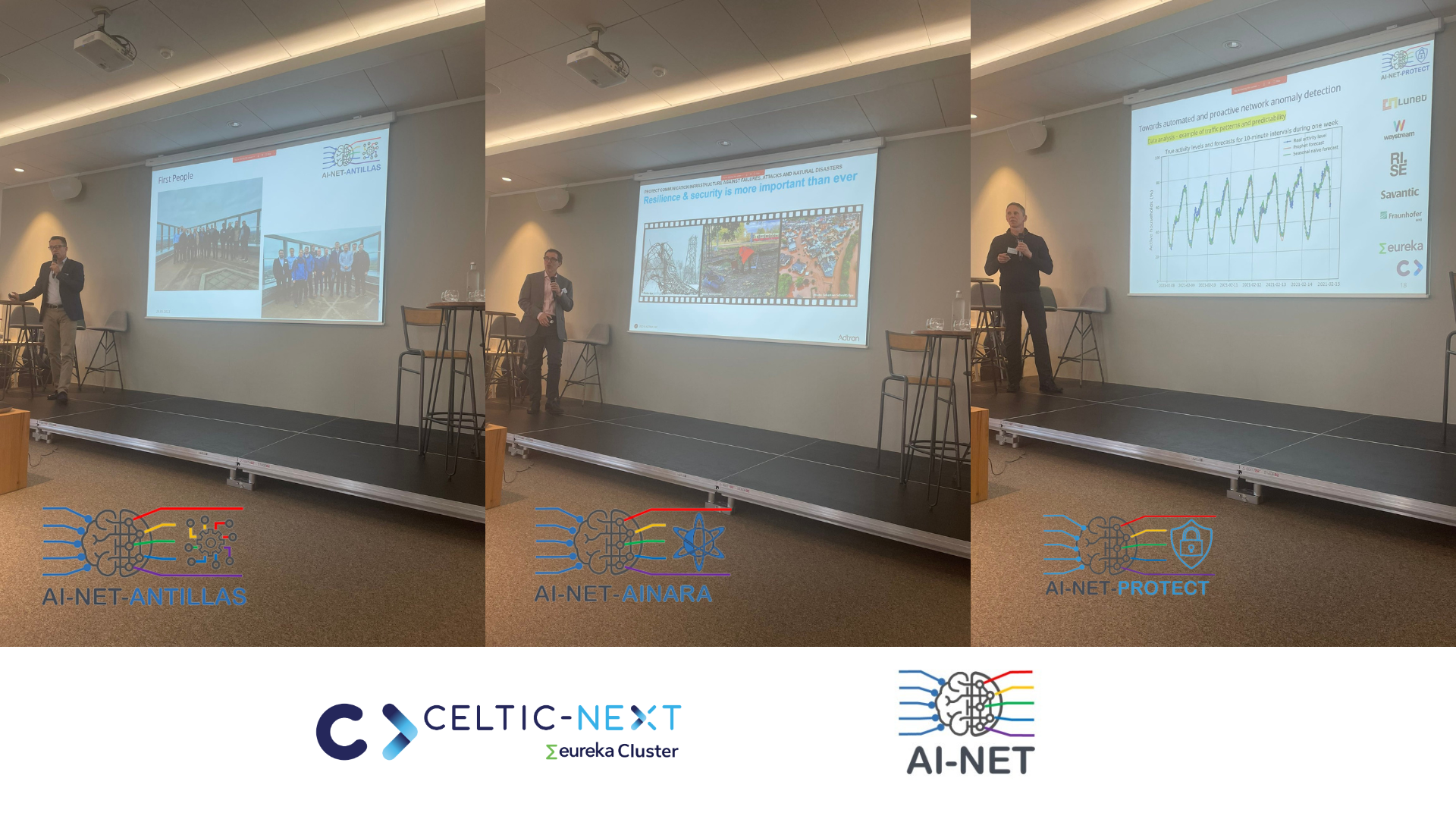 In the following presentations, different partners presented different subjects around the topic of Standardization and Collaborations. Christoph Lipps, Team Lead Cyber Resilience & Security, Intelligent Networks Research Department, DFKI, shared his views on a "6G-Platform" developed in the project. After that Achim Autenrieth, Director Advanced Technology, Adtran/ADVA, gave a complete presentation of the "Celtic-Next flagship project AI-NET". To complete this session of presentation, Carlos Natalino, Researcher with the Optical Networks Unit, Chalmers, ETSI TFS TSC member, presented the "ETSI OSG TeraFlow SDN".
After the lunch break, the next session was dedicated to presenting the AI-NET sub-projects: AI-NET-ANIARA, led by Ericsson Research, AI-NET-PROTECT, led by ADVA, and AI-NET-ANTILLAS, led by Nokia Bell-Labs.
The AI-NET-ANIARA first sub-project was presented by Jorgen Gustafsson, Head of Research Area AI, Ericsson Research, followed by the presentation of AI-NET-ANTILLAS sub-project presented by Arnaud Dupas, Research Project Manager, Nokia Bell Labs France. In the end, competed by the presentations of the last sub-project divided in two: AI-NET-PROTECT and AI-NET-PROTECT-SE, respectively explained by Jörg-Peter Elbers, SVP Advanced Technology, Standards & IPR at ADVA, Adtran/ADV and Henrik Abrahamsson, Senior Researcher at RISE.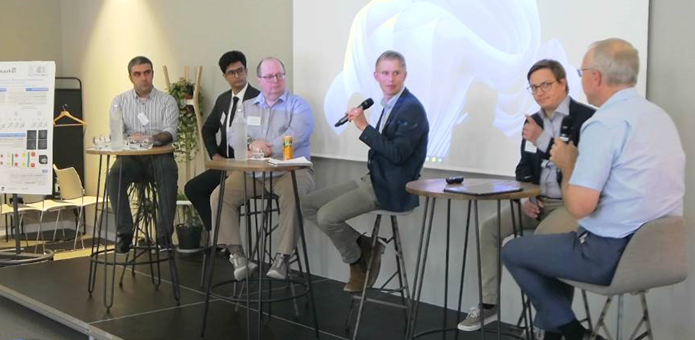 Finally, the event concluded with a panel discussion between Martin Christensen, Qamcom, SE (AI-NET-ANIARA), Rizwan Asif, Huld, FI (AI-NET-ANTILLAS), Markus Säynevirta, Airbus, FI (AI-NET-ANTILLAS), Anders Lindgren, Telia, SE (AI-NET-PROTECT) and Behnam Shariati, HHI (AI-NET-PROTECT) was moderated by David Keenedy during 1 hour around the subject of Digital transformation & the impact of Artificial Intelligence.

About AI-NET
AI-NET is a 74 million euro public-private partnership project under CELTIC-NEXT, the EUREKA Cluster for next generation communications for a digital society. AI-NET comprises three sub-projects with 92 companies, research organisations, and universities from Germany, Sweden, Finland, France, United Kingdom, Netherlands, and Poland. The CELTIC-NEXT flagship project is coordinated by ADVA Optical Networking SE, a European telecommunications vendor headquartered in Germany.
AI-NET is publicly co-funded by the public authorities of Germany (BMBF), Sweden (VINNOVA), Finland (Business Finland), and the United Kingdom (Innovate UK).
Further information