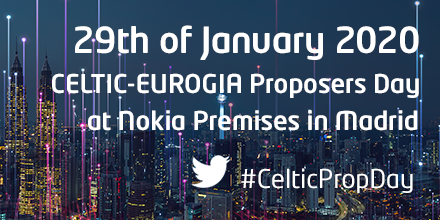 CELTIC and EUROGIA are pleased to announce the joint call that closes on March 30th 2020. This is a perfect opportunity to respond better to current trends that require a cross-cutting approach. The goal of the joint call is to expand knowledge, boost visibility and promote cooperative efforts for innovative results.
The aim of the Proposers Day was to learn about CELTIC and EUROGIA, to discuss project ideas with potential partners and to find out about funding opportunities in your countries. This Proposers Day hosted participants from 8 different countries and took take place at Nokia premises in Madrid on 29 January 2020.
Proposers Days are discussion fora for organisations that are interested to participate in a research project and want to benefit from performing collaborative research through one of the EUREKA Clusters CELTIC-NEXT or EUROGIA.
This was the first time that the two EUREKA Clusters team up for a Joint Call and we expect that Project Proposals in telecommunications and ICT as well as in the green Energy domain will be created.
Because it is a Joint Call between EUROGIA and CELTIC-NEXT, the applications will be submitted via the Call portal in order to synchronize the submission process.
Please find a summary of the day here
Agenda of the Day:
09:30- 09:50: Welcome
– Ignacio Gallego CEO Nokia and Álvaro Villegas Nokia Bell Labs, Spain
– Miguel A. González CDTI General Secretary, Spain
– Pierre Besse, EUROGIA2020, Vice President
– Jari Lehmusvuori, CELTIC Vice-Chair, Nokia, Finland
09:50 – 10:20: Keynote on AI: "Building the Golden Closed Loop – AI and Networking"
-Diego Lopez, Telefónica, Spain
10:20 – 10:45. How to submit a Proposal to the Joint Call of CELTIC & EUROGIA
-Pierre Besse, EUROGIA2020 Vice President
-Peter Herrmann CELTIC Office Director
10:45 – 11:00: Presentation of AI Joint InterCluster Call
-Peter Herrmann, CELTIC Office Director
11:00 – 11:20:  Coffee Break
11:20 – 12:00: CELTIC-NEXT / EUROGIA project framework in Spain and PAs from other
participating Countries
Funding situation and research focus areas in
–Spain Juana Sanchez, CDTI
–Canada Narayanan, Kasturi, NRC-CNRC
–Luxemburg Alexander Link, Luxinnovation
12:00 – 13:00: Panel Business impacts of CELTIC and EUROGIA projects
– Moderator: Pierre Besse, EUROGIA2020 Vice President
Virtuose and UNICRINF, Maria Luisa Arranz & Jose Javier Garcia Aranda, Nokia (Spain)
E3, Chabrera Villarreal Oscar, Vilynx (Spain)
SENDATE, Jari Lehmusvuori, Nokia (Finland)
ENERJİSA: Hülya Akınç (Turkey)
Bureau Veritas: Sophie Theys (France)
13:00 – 14:00 Lunch
14.00- 16:00: 12 Project Ideas have been presented by Proposers
-Moderator: Mrs Christiane Reinsch CELTIC Programme Coordinator.
16:00-17:00 Demo Session by NOKIA Spain
New Project Ideas presented at the Project Pitching Session:
In the afternoon 12 proposers presented their new project ideas for the upcoming Open Call that closes on 30th of March 2020. Proposers from Canada, Spain, Turkey and Israel presented project ideas covering a broad range of ICT topics from underwater communications over smart agriculture and AI solutions also topical proposals well covering the smart energy field were presented.
Consortium Building Sessions:
The moderator Christiane Reinsch, Programme Coordinator at CELTIC Office and the pitch presenters invited the audience to the follow up Consortium Building Sessions that took place in the first week of February to furhter strenghen the consortia.
Please have a look at the new project ideas that were presented and do not hesitate to join the follow up Consoritum Building Sessions to find out if your expertise is needed in one of the project ideas. The contact details can be found on the last slides of the presentations.
You can also have a look at new projet ideas from previous CELTIC Events and Proposers Days , please keep in mind to take an active role and get in contact with the pitch presenters.
If you have any questions or need help, do not hesitate to contact the CELTIC Office or the EUROGIA Office, we are pleased to help you.
Contact: CELTIC Office: event@celticnext.eu or Peter Herrmann: herrmann@celticnext.eu.
Contact: EUROGIA Office: Sinem ALTUNCU' sinemaltuncu@eurogia.com
This event is kindly hosted by Nokia and is supported by CDTI.