An opportunity to discuss project ideas with potential partners and to learn about the funding possibilities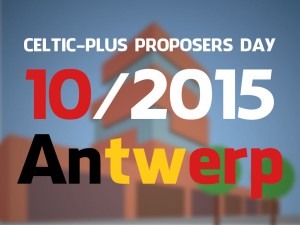 In the nice atmosphere of the newly refurbished meeting area of Alcatel-Lucent in Antwerp, more than 60 experts discussed their project ideas with potential project partners and found out about funding opportunities in their countries at our last CELTIC-NEXT Proposers Day on 28 October 2015.
CELTIC-NEXT Proposers Days are platforms for organisations related to telecommunications that are interested to participate in a CELTIC-NEXT project and want to benefit from performing collaborative research through the EUREKA Cluster CELTIC-NEXT.
10 exciting project ideas were presented and discussed, and will hopefully turn into successful CELTIC-NEXT projects.
Please have a look at the excellent keynote speech by Dr. Fahim Kawsar, and at the interesting project proposals (downloadable below in the agenda)
Summary (abstracts) of the Proposal Idea Pitches presented in Antwerp as Webpage
Summary (abstracts) of the Proposal Idea Pitches presented in Antwerp as pdf

Please also check out the proposal ideas from earlier Proposers Days
Welcome
Ingrid Van de Voorde, Executive Director Bell Labs Belgium
Jacques Magen, CELTIC-NEXT Chair
Keynote
Network Driven Behaviour Modelling for Designing Future IoT Experiences (100MByte size!)
Dr. Fahim Kawsar (ALU Bell Labs)
CELTIC-NEXT success story
Results and impacts of the successful CELTIC-NEXT project CoMoSeF (Co-operative Mobility Services of the Future)
Pekka Eloranta, Mobisoft
CELTIC-NEXT project funding in various countries
Funding situation and research goals in Belgium:
– Mathilde Reumaux, Innoviris, Brussels region
– Danny Van Steenkiste, IWT – Agency for Innovation by Science and Technology
Funding situation and research goals in Israel (Aviv Zeevi Balasiano, ISERD)
CELTIC-NEXT Proposal Pitches

Hands on experience on how to submit a CELTIC-NEXT project proposal
Peter Herrmann from the Celtic Office explains how easy it is to submit a CELTIC-NEXT project proposal
Meet the proposers and the national funding authorities
– Networking of proposers and interested partners
– Opportunities to talk to representatives of the national funding authorities
Summary of the proposal idea pitches of earlier CELTIC-NEXT Proposers Days:
Oulu, 7 May 2015
Paris, 29 June 2015