Focus on Mobility and Industry 4.0 at Celtic-Plus Proposers Day in Berlin
On 21 February 2017, Celtic-Plus organised a Proposers Day in Berlin, together with Deutsche Telekom, who hosted the event. Celtic-Plus Chairman Jacques Magen and Riccardo Pascotto from Deutsche Telekom welcomed 75 participants from 14 European countries on the 20th floor of the Telekom Innovation Laboratories tower. The Proposers Day provided information on funding opportunities and project topics. This time the focus of the presentations was on mobility and Industry 4.0.
Mobility
The first session was dedicated to automotive telecoms. Luc Jansseune from EATA, the European Automotive Telecom Alliance for Connected and Automated Driving, presented first-hand information on the newly established Alliance, which brings together major telecoms operators and telecoms system suppliers as well as major car manufacturers and suppliers. He provided a timeline towards the full-scale launch of semi-autonomous driving. In contrast to fully autonomous driving, the driver must still be able to take over control of the car. According to Mr. Jansseune, we can expect semi-autonomous cars driving in the early 2020th.
Mobility needs powering – that was the key topic of Heiko Lehmann from Deutsche Telekom. In ICT-managed powering, mobility, energy and ICT systems are combined. According to Mr Lehmann, load levelling using the batteries of thousands of electric cars is not the conclusive way forward. Multiple control criteria need to be taken into account, and ICT is needed to manage the flow of electrical energy in the power grid for future mobility needs. Decentralised power generation, micro-grid controllers managing the power flows, and 5G will transform ICT networks to adapt to new business processes, said Mr Lehmann.
Industry 4.0
The second key topic session about Industry 4.0 was presented by Marlene Gerneth from Deutsche Telekom. She focused her keynote presentation on digitalization of production and the digitalization of products. Today industry automation and ICT are still two different worlds. She explained how the complementary areas of highly resilient but isolated local networks of factories will merge with global Cloud-based networks. A key for this will be the convergence of the related standards. Deutsche Telekom focuses not only on customer applications but also on smart logistics, smart energy using several horizontal services, and different connectivity solutions and devices.
Project funding and ideas
Dimitar Kroushkov from VDI/VDE, informed the audience about the funding conditions of the German ministry of education and research (BMBF), and Matthias Kuom from DLR explained the funding conditions of the German ministry of economics (BMWi). Both underlined that it is important to contact the German authorities as early as possible in the submission process of a new Celtic-Plus project.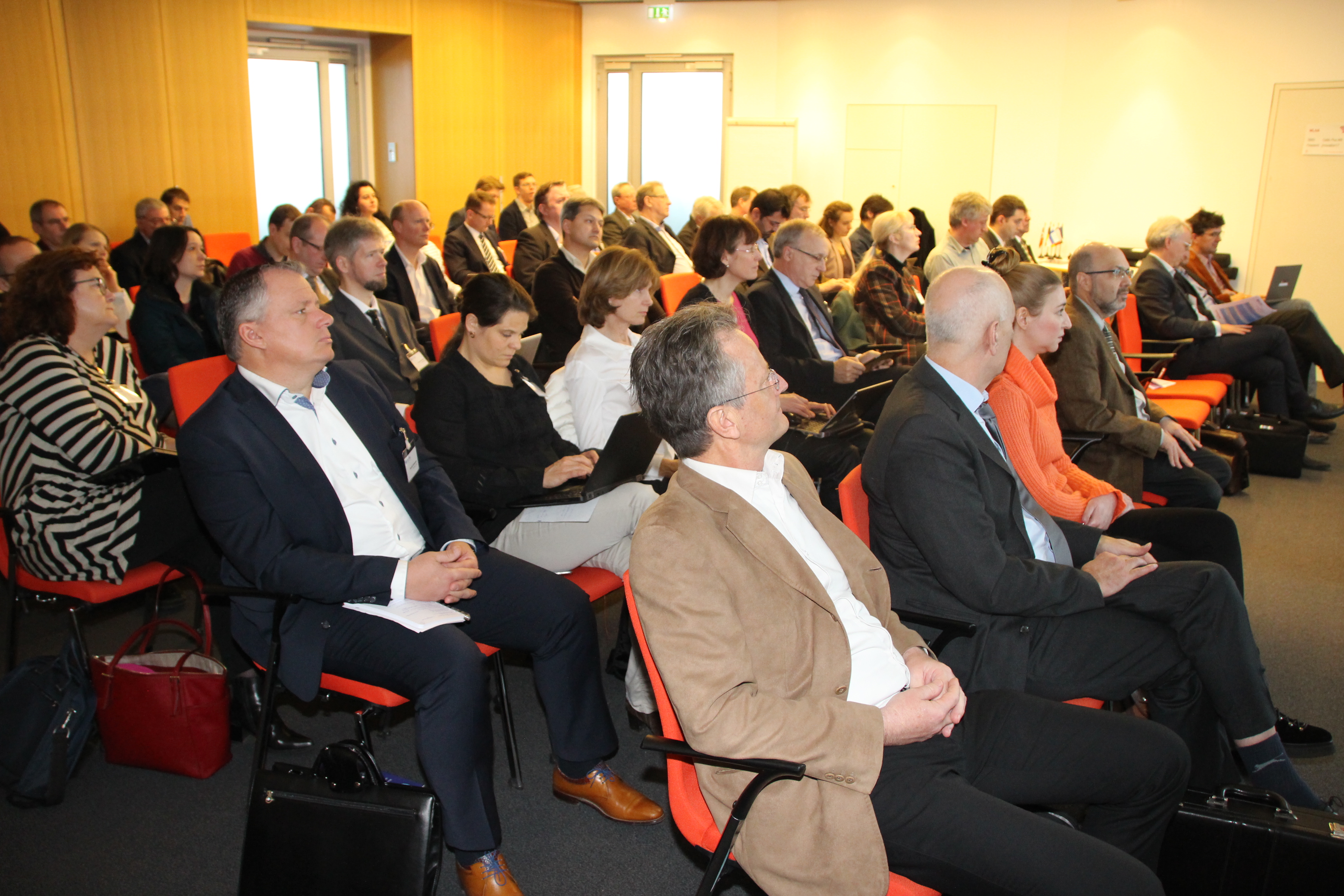 Another core element of the Proposers Day was the pitching of projects. 14 proposers presented their ideas on a wide range of ICT topics. They included 5G-related technologies, automotive telecoms, smart agriculture, security, and gamification for learning. The presentations were followed by productive discussions with the audience. Some of these discussions could lead to interesting new Celtic-Plus project proposals.
The presentations are available at https://www.celticnext.eu/event/celtic-plus-proposers-day-in-berlin/.