AI and Robotics for Quality and Risk Management in Industrial Harsh Conditions
AI and Robotics for Quality and Risk Management in Industrial Harsh Conditions
Title of my Project Idea
AI and Robotics for Quality and Risk Management in Industrial Harsh Conditions
Objective of my Project Idea
This project is based on the perceived potential of the use of robotics in harsh conditions through the utilization of AI, next generation wireless sensors (IoT platform), wireless networks (5G), image analysis, and autonomous robotics. The possibility of using drones and mobile robotics in monitoring/inspection has been sparking the interest in the R&D field, especially in industrial harsh conditions. However as per recent research of drones in harsh conditions of mines, the main challenges drones face in harsh conditions are GPS-denied environment, lack of wireless signal, confined space issues, and high concentration of dust and toxic gases. Hence this project aims in developing an autonomous drone system (Without remote operator) that utilizes image processing for geo-location with strong wireless network for inspection in mine tailing areas. On the other hand, coating processes have their own challenges in harsh conditions like painting in ship harbour areas, windmill painting etc, where the autonomous drone system will come in use again.
The technological developments defined in this project can be leveraged to solve the current existing issues in harsh conditions, where it is inaccessible for humans to enter. Similarly, these advanced technologies will support use cases in the coating process where first image analysis is conducted by drones and then robotized spraying operations will be done. Image analysis can be used for real time autonomous ore-tracking for material logistics.
While the advanced technologies with robotics aims to solve the issues in industrial harsh conditions, the technological developments like 5G, Image processing, and AI solves challenges of quality a variety of use cases without the use of robotics in harsh conditions. One of the use cases is AI learning for quality management through image analysis in order to ensure quality of the finished coated/painted product (Metal, wood, and other product types).
Types of partners being sought
Drone service providers, Industrial maintenance service providers and painting service providers, Software productising companies
Proposal key words
A2 Mobile / Wireless
C8 Artificial Intelligence
D4 Internet of Things, including Sensors and Wearables
Contact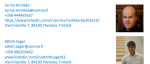 Name:
Jorma Hintikka
Company:
Centria University of Applied Sciences
Type of Organisation:
Industry
Country:
Finland
Web:
Telephone:
+358 444492637
Brief description of my Organisation
Centria's RDI activities are diverse and at the forefront of Finnish polytechnics. Our strength is an exceptionally close connection to the region's employment and business life, which accounts for a significant share of research and development funding. Our goal is to bring new knowledge, skills and technologies to our region and provide primarily support the needs of business and working life. Success in the customer service task and customer focus in operations is a prerequisite for financial success. Customer satisfaction and the credibility of operations require high-quality RDI activities based on the needs of the region. The three basic pillars of our RDI operations are project activities, R&D and production development services for business, and training services. Our expertise is divided into 4 departments (1) Production Technology, (2) Digitalisation, (3) Chemistry and Bio-economy, and (4) Entrepreneurship and Well being. We in Centria have 73 Research, Development and Innovation staff, 96 projects and 22 international projects.
Please complete the form to contact this Proposal/Idea