CELTIC Innovate UK Summer Briefing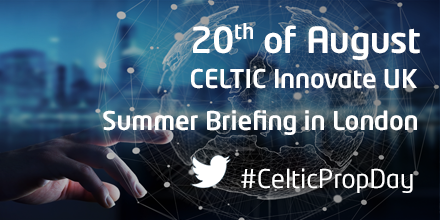 The CELTIC Innovate UK Summer Briefing took place on the 20th of August. Funding opportunities were presented from Innovate UK at the Prince Phillips Hall in London. Several project ideas with potential partners were discussed.
CELTIC, part of the EUREKA intergovernmental network, is a telecommunications industry-led initiative promoting collaborative research and innovation, supported by public authorities. CELTIC-NEXT, which deals with future networks, follows on the footsteps of the CELTIC and CELTIC-PLUS programmes.
The Summer Briefing was organisations and open to any organization interested in participating to a CELTIC-NEXT project. This was an opportunity to present and discuss proposals and to find potential partners to form project consortia.
During this event, Innovate UK  announced the funding competition for UK organisations planning to participate to the CELTIC-NEXT autumn call, whose scope will cover 5G infrastructure technologies, as well as applications and services that leverage 5G networks. Innovate UK will provide further guidance on this collaborative R&D funding competition during the event.
 Agenda:
Welcome John Kingsburry, KTN
Keynote address by Zoe Webster, Director for AI and Data Economy at Innovate UK
Innovate UK CELTIC competition by Jean-François Fava-Verde, Innovation Lead – Digital at Innovate UK
CELTIC-NEXT Autumn Call by Christiane Reinsch, CELTIC-NEXT Programme Coordinator
Pitch presentations moderated by Christiane Reinsch, CELTIC-NEXT Programme Coordinator
Networking lunch
Join the CELTIC Consortium Building Web-Sessions on 9-13 September.
In case you are interested in one of the newly presented pitches, please  join the consortium building web-sessions. This is a good opportunity to further connect and discuss a possible involvement in one of the below CELTIC project ideas. In case there is no webinar scheduled please contact the pitch presenters directly, the contact details can be found on the last slide of the presentations.
If you have any questions please do not hesitate to contact us, event@celticnext.eu
Get informed about the latest CELTIC Events and Proposers Days