Celtic-Plus Project SENDATE Simplifies Operations of Open Optical Networks

In September 2018, SENDATE, the Celtic-Plus flagship project for secure networking of data centers in Europe, successfully completed an industry-first multi-vendor SDN field trial. It featured real-time planning of transparent high-speed services across a disaggregated, multi-domain optical network.
SENDATE Trial Advances SDN-Enabled Interworking
The role of Software Defined Networking (SDN) in infrastructure networks continues to gain attention, as traffic growth increases the costs and complexity of network operations. The SENDATE trial demonstrated the critical role that open, standards-based SDN interworking plays in creating an automated, end-to-end high-capacity service infrastructure optimized for the stringent and dynamic connectivity requirements of evolving 5G, IoT, and hyperscale cloud applications.
Industry Collaboration and Innovation
Conducted this month in the Telia Company R&D lab in Stockholm with live connectivity to production network fibers, the multi-vendor and multi-domain field trial highlighted the importance of open ecosystem collaboration. Such a multi-stakeholder collaboration is essential to progressing SDN interoperability, ultimately driving innovation and realizing the real-world value of technological advances.
In addition to the participation of a leading Tier 1 service provider, SENDATE's multi-vendor trial featured optical networking and SDN solution suppliers and research partners, including ADVA, Coriant, highstreet technologies, VPIphotonics, and the RISE Research Institutes of Sweden.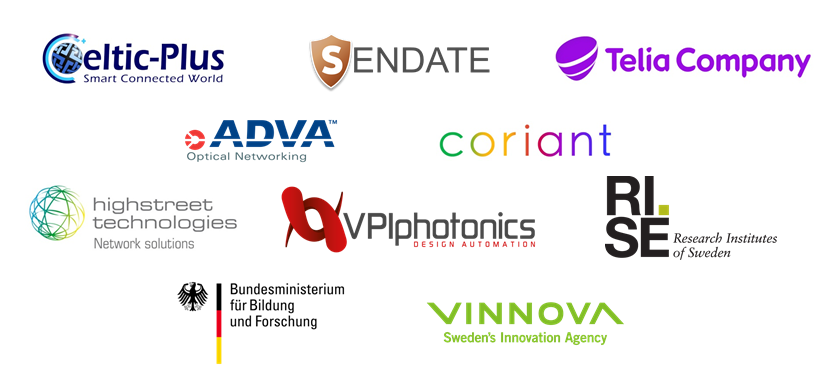 SDN-enabled Multi-Domain Reach Planning and Service Orchestration
The Proof of Concept (PoC) demonstration leveraged standardized control interfaces for vendor-agnostic reach planning and automated end-to-end service activation across a disaggregated optical network. Based on the SENDATE SDN Control Architecture, the multi-vendor trial featured SDN-enabled interworking between the network orchestration, control and management, and optical transmission layers of the network.
The multi-domain trial architecture was built upon key solution components, including a transport orchestrator with integrated planning capabilities, multi-vendor SDN transport controllers, ROADM-based open optical line systems, and disaggregated transponders. The use cases demonstrated during the trial covered on-demand connection management of 200G wavelengths over a multi-domain optical infrastructure, dynamic optical reach planning using open APIs in a multi-vendor environment, and SDN-enabled alien wavelength interconnection across the ADVA and Coriant optical domains, among others.
Service Provider and End-Customer Value
For service providers, the trial addressed key aspects of real-world SDN deployment, including closing the gap between the technical feasibility and operational requirements in planning and network design. This capability will allow service providers to simplify network integration by open and standardized interfaces, as well as extend their service offerings with high-bandwidth, self-provisioned connectivity services over a cost-optimized optical transport network.
For end-users the trial illustrated the flexibility enabled by automated, high-bandwidth services across multi-domain infrastructure networks. This capability is increasingly critical for meeting the stringent performance demands of new bandwidth-intensive applications. Changing bandwidth requirements and a need for dynamic alignment with workload agility are key for cloud-centric IT networks. The trial showcased how those requirements can be met with standardized multi-vendor systems in combination with open source software solutions.
Open, Standards-Based Multi-Vendor Interworking
Standards-based interfaces remove market entry barriers and enable suppliers to interwork without a need for time consuming and expensive network integration exercises. In addition, standardized network solutions can be combined with open source control creating cost-efficient, agile transport networks. This offloads technology suppliers from in-house development of common functions, freeing up resources for faster service innovation.
The PoC trial also demonstrates that a truly open SDN platform based on OpenDaylight is a real option for network operators. Utilizing standardized interfaces enables the seamless integration of highly specialized network applications such as online optical network planning and service activation, while unleashing new business opportunities for small and medium-sized enterprises and large operators alike.
This work has been performed in the framework of Celtic-Plus project SENDATE by the sub-projects SENDATE-Secure-DCI and SENDATE-FICUS, and it is partly funded by the German Federal Ministry of Education and Research, BMBF, and the Swedish Governmental Agency for Innovation Systems, Vinnova.
Further information is available on the SENDATE website
Read the full press release