Energy saving in IP-based video distribution networks – Novel approach by Celtic-Plus project CONVINcE
26 September 2017, Châtillon, France. Celtic-Plus project CONVINcE has made an important contribution to reducing the energy consumption in video networks through a novel approach. The focus of CONVINcE is on optimizing and reducing the end-to-end power consumption in IP-based video distribution networks from the headend to the terminal.
The project's new approach has the potential of helping to reduce the carbon footprint of Internet traffic, which is mainly driven by video. Internet traffic is a major contributor to the overall ICT carbon footprint, which is expected to exceed the carbon footprint of air travel by a factor of two before 2020. The novel approach by CONVINcE will, thus, help in reducing carbon dioxide emissions and saving energy costs.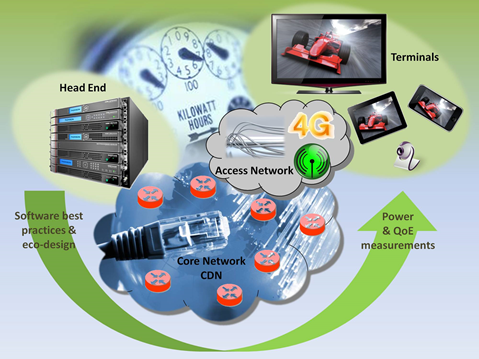 Figure: End-to-end approach for saving energy in IP-based video distribution networks by Celtic-Plus project CONVINcE
The project partners' efforts concentrated on architectures, hardware and software design, protocols and basic technologies in the devices. In parallel to these activities, the project ran transversal activities on "Software best practices & eco-design" and "Power & QoE measurements". The project also considered the use of new technologies in the form of Software Defined Networking (SDN) associated with Network Function Virtualization (NFV).
Several solutions were studied to reduce the energy consumption in networks. The most promising are the following. A gain of 10%-15% can be achieved by using an all-optical core network. Using DOCSIS3.1 appliances for cable network nodes and amplifiers provides up to 45% improvement. Energy-efficient routing algorithms for SDN-based access networks can save up to 10%, and load balancing algorithm in SDN-based data-centre networks up to 40%. A multi-tier architecture brings up to 93% savings in video surveillance networks. Video playback power consumption can be reduced by 83% with an optimized execution environment in terminals. The highest savings in TV displays (up to 45%) are provided by including new optical film structure, LED efficacy improvements and auto-dimming algorithms.
Standardization
The CONVINcE partners did not stop at developing technologies and test them. They were also very active in standardization. CONVINcE contributed to four different standardization forums: 3GPP, IEEE, IETF and MPEG. In these forums the project contributed to 6 different working groups with 38 technical contributions.
Publications
Partners have published 52 scientific papers out of their activities in the project. The papers were published in high-ranked international conferences, journals and workshops. Another important publication result of CONVINcE is a book that will be published by Springer International Publishing AG – title: "Guide to Greening of Video Distribution Networks – Energy-Efficient Internet Video Delivery". In eleven book chapters, project partners report on the results achieved.
About CONVINcE
The CONVINcE project started in September 2014 and completed its work in September 2017.
The consortium, led by Harmonic France, included 16 partners from 5 countries:
France: Harmonic France, CEA LIST, Greenspector, Institut Mines Télécom, Orange SA
Finland: Exfo, Oy L M Ericsson Ab Finland, Teleste Corporation, University of Oulu, VTT Technical Research Centre of Finland,
Sweden: Blekinge Institute of Technology, Lund University, Sensative AB, Sony Mobile Communications AB, TelHoc AB,
Turkey: Vestel Electronics
For further information, see the project website at: http://convince.wp.tem-tsp.eu/