Five Winners at Celtic-Plus Awards 2017 in Barcelona
At the Celtic-Plus Event in Barcelona on 18 May 2017, five projects were awarded for their outstanding work. Three projects received the Celtic-Plus Excellence Award and two projects the Celtic-Plus Innovation Award. The awards were presented to the winners by Celtic-Plus chairman Jacques Magen and by representatives of the public authorities of coordinating countries: Finland: Hannu Nurmi (Tekes), France: Serge Bodjrenou (DGE), Germany: Andrea Hesse (DLR) and Spain: Juana Sanchez (CDTI). The Celtic-Plus Event was part of the EUREKA Innovation Week that was organized by the Spanish EUREKA chairmanship.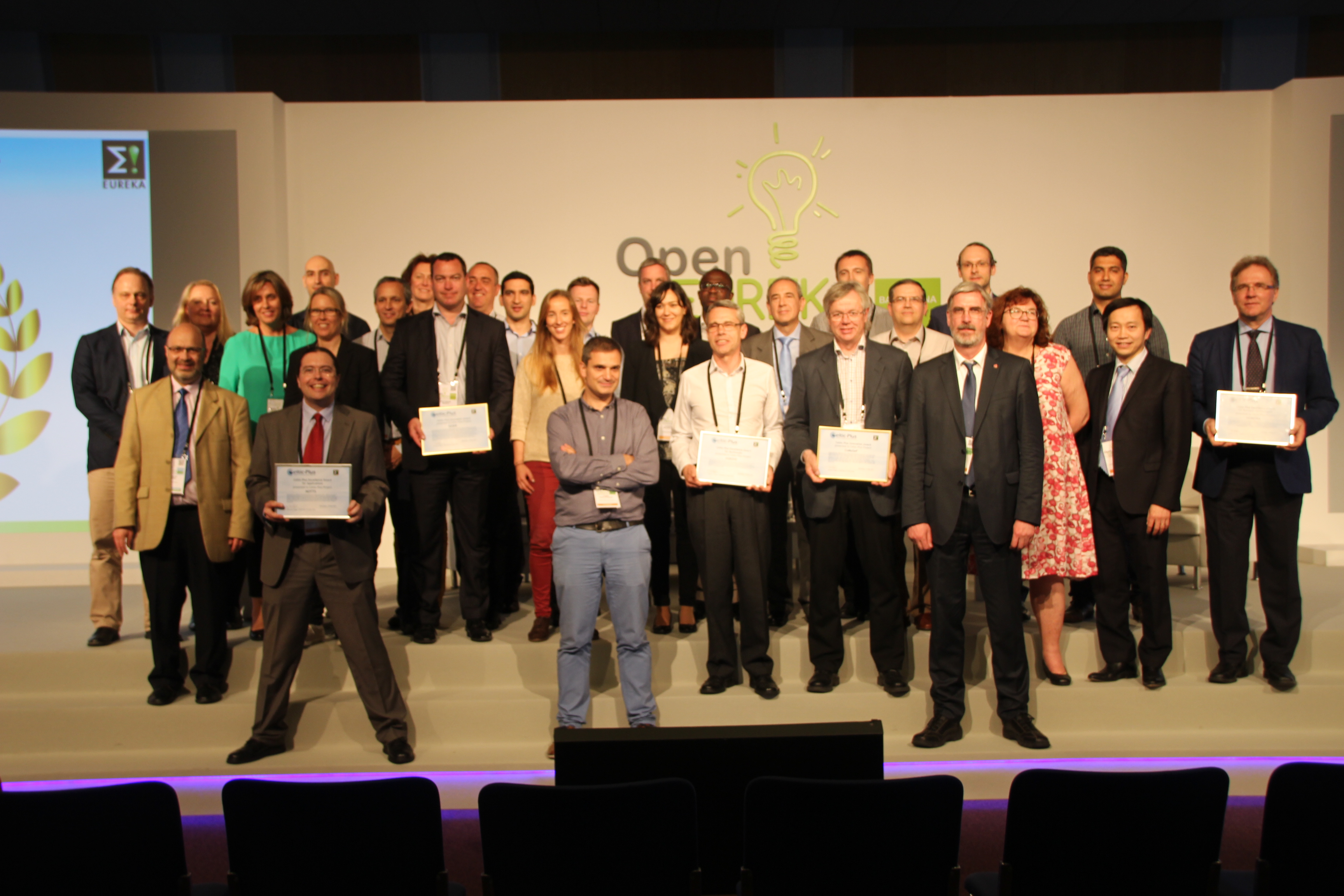 Celtic-Plus Innovation Award
CoMoSeF – Co-operative Mobility Services of the Future
CoMoSeF provided safer driving via new traffic information solutions. COMOSEF's solutions are able to disseminate traffic-related information between cars, the road infrastructure, transport agencies and others to warn drivers of upcoming hazards and keeping the traffic flow smoother.
The driver is now able, for example in foggy weather situations, to have a clear view of the street and get warned of pedestrians crossing the road ahead via his mobile device.
Project leader: Mobisoft Oy, Finland
Duration: July 2012 – June 2015
Website: http://www.comosef.eu/
Celtic-Plus Innovation Award
SASER – Safe and Secure European Routing
SASER, which stands for "Safe and Secure European Routing", achieved a plethora of results that have contributed to making communications networks in Europe faster, more cost-effective, safer and more secure.
Setting the basis of secure communication as it is required for future industry 4.0 needs. Whilst keeping excellent market results for cybersecurity needs.
Many of the latest developments regarding Smart Cities, digital mobility services, etc. would not have been possible without cyber security.
Project leader: Alcatel-Lucent Deutschland AG (now Nokia), Germany
Duration: August 2012 – December 2015
Website: http://projects.celticplus.eu/saser/
Excellence Award for Network Technologies:
SIGMONA – SDN Concept in Generalized Mobile Network Architectures
SIGMONA's software-defined networking and network function virtualization architecture lowers the initial network investment, energy consumption, and network management costs for mobile operators. SIGMONA's solution provides network managers the flexibility to configure, manage, secure, and optimize network resources to adapt to changing business needs.
SIGMONA was on the forefront of emerging 5G technology providing operators the facility to adapt 5G technology by themselves without the need to wait for features embedded in vendors' proprietary and closed software environments.
Project leader: Nokia Oy, Finland
Duration: June 2013 – April 2016
Website: https://www.celticnext.eu/project-sigmona/
Excellence Award for Services and Applications:
NOTTS – Next Generation Over-The-Top Multimedia Services
NOTTs developed a scalable and robust video-over-the-top streaming solution able to deliver adapted contents to heterogeneous devices and networks.
One highlight of this project was the fine-granular analysis of the Quality of Experience in different EUROPE countries to achieve high customer's satisfaction.
Project leader: INDRA Sistemas, Spain
Duration: May 2013 – March 2016
Website: http://projects.celticplus.eu/notts/
Excellence Award for Multimedia:
H2B2VS – HEVC Hybrid Broadcast Broadband Video Services
The project combined the broadcast network with the broadband market by providing enabling technology. One highlight is the standardization of the TEMI protocol enabling the synchronization mechanisms for hybrid networks.
Project leader: Thomson Video Networks, France
Duration: January 2013 – November 2015
Website: http://h2b2vs.epfl.ch/