Four Winners at the CELTIC Awards in Valencia
At the CELTIC Event in Valencia on 19th June 2019, which was co-located with the EuCNC Event and the Global 5G Event 2019, four projects won the CELTIC Award for their outstanding work. Three of these projects were awarded for their excellence in the areas of networking technologies, applications, and multimedia. The fourth was honoured with the Innovation Award for its outstanding market innovation beyond the project lifespan. The awards were presented to representatives of the winning projects by CELTIC-NEXT chairperson Valérie Blavette and handed over by Juana Sanchez from CDTI, the representative of the Public Authority in Spain.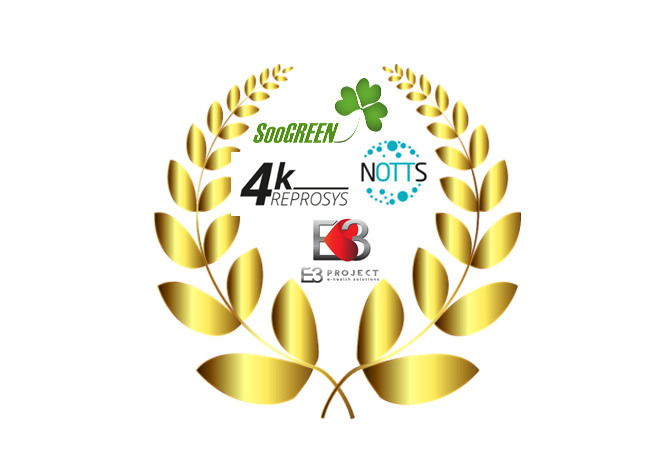 Excellence Award for Multimedia:
4KREPROSYS – 4K ultraHD TV wireless REmote PROduction SYStems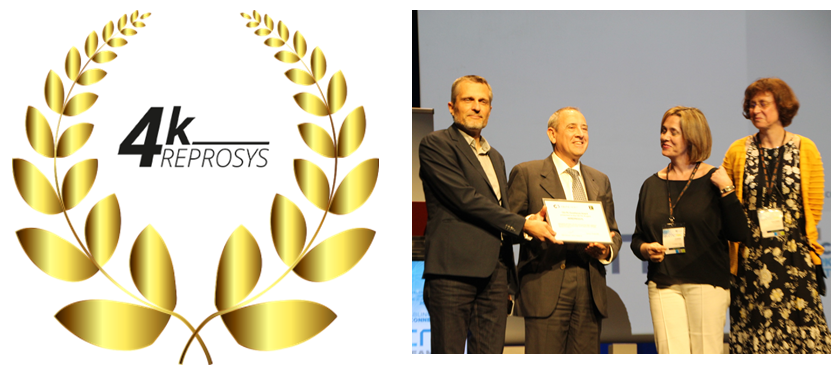 Mr. François Valadoux (Executive Vice President of AMP Visual TV, France), Marco Mattavelli from EPFL, Switzerland
Juana Sanchez from CDTI, Spain and Valerie Blavette CELTIC-NEXT Chairperson
The project partners have been very successful in their specialized video production ecosystem. The business relevance of the developed 4KREPROSYS solution has been evaluated as very high. The successful involvement in major events like the FIFA World-Cup 2018 underlines the competitiveness of the solutions brought forward by the project.
Some solutions and demonstrations presented during the final review are still in a proof-of concept phase, but a relevant number of setups are already very mature and just making the step into production. The high involvement in standardization will help to further exploit the project results.
The exploitation of the project results has already started before the end of the project and before all technology elements of each product have been completely developed. This is true for the wireless camera link already in production in June 2018, for the new tracking antenna system mounted and used in content production and for the advertisement insertion system. HEVC LL codec prototypes are in field test at EBU since the 22 of May 2018.
Video up- and downstream from and to an aircraft using LTE standard was possible and helpful to cover live events, such as motorsport races or other sports events.
Coordinator: Dominique Grillet, AMP Visual TV   |   Duration: December 2014 – June 2018
Project Video
Website: https://www.celticnext.eu/project-4kreprosys
Excellence Award for Network Technologies:
SOOGREEN – Service-oriented optimization of Green mobile networks
Valerie Blavette CELTIC-NEXT Chairperson, Dominique Bodere SOOGREEN Project Coordinator from Orange, France and Juana Sanchez from CDTI, Spain
SooGreen's main objectives were to reduce the energy consumption of services and to improve the mobile network architectures and content delivery taking advantage of the smart-grids, by using a holistic approach at the level of network components, architecture, management and control. The project has addressed the need to reduce the energy consumption of services in different mobile network architectures, focusing on topics like modelling and measurement of services energy consumption in mobile networks; dynamic optimization in access; energy-efficiency aspects of emerging virtual and cloud RAN architectures; and interaction between service delivery in mobile networks and smart-grids.
SooGreen presented excellent results in the area of energy efficiency in wireless networks and reduction of greenhouse gas emissions. In this way, the project creates environmental and economic benefits as well as social impact improving the lives of many people.
Soogreen's main achievements include: a sharing model of energy responsibility between categories, deployed in real networks; features implemented in real networks and brought to standardization; standardisation actions and retransfer to 5G trials; passive cooling techniques; interaction with smart grid and mobile operators, local energy grid, energy system and links between these domains; energy savings in Wi-Fi networks.
Coordinator: Dominique Bodere, Orange  |   Duration: July 2015 – November 2018
Project Video
Website: https://www.celticnext.eu/project-soogreen
Excellence Award for Applications:
E3 – E-health services Everywhere and for Everybody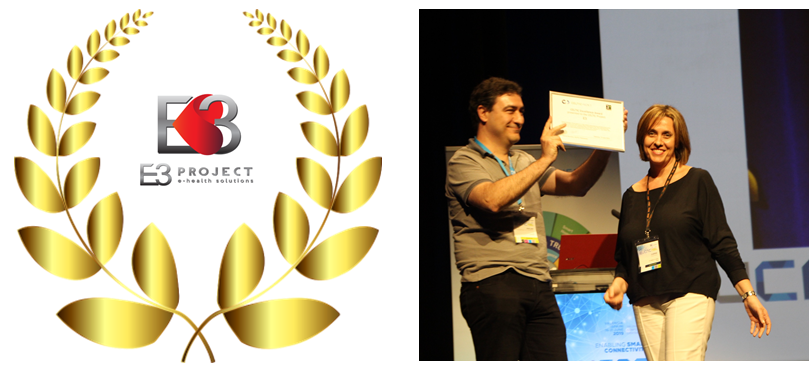 E3 Project Coordinator Oscar Chabrera from Vilynx Spain and Juana Sanchez from CDTI, Spain
E3 designed and implemented an end-to-end platform to allow e-health services to both rural and urban areas, patients and professionals, exploiting and extending the results from the awarded HIPERMED Celtic-plus project, developing them further, addressing other communication types and compression techniques, and extending the type of scenarios, by testing the developments in 15 healthcare scenarios (professional to professional, professional to patient and patient to patient) validated by doctors and professors testing the platform results.
E3 has evolved from SIP (HIPEMED) to WebRTC allowing a system complexity reduction and improving customer connection allowing asymmetric and mobile connection. The project also innovate on compression techniques, allowing professionals to connect on the move, and not just from their offices, providing e-health services everywhere, by reducing video minimum bandwidth requirements for medical decisions from 3 to 1 Mbps. E3 services were integrated in both mobile Apps and STB-HDTV allowing providing medical services at home, reusing patients existing equipment.
Project Coordinator: Oscar Chabrera Villarreal, ViLynx Spain S.L.U.  |  Duration: December 2014 – June 2018
Project Video
Website: https://www.celticnext.eu/project-e3
Innovation Award:
NOTTS – Next generation Over-The-Top multimedia Services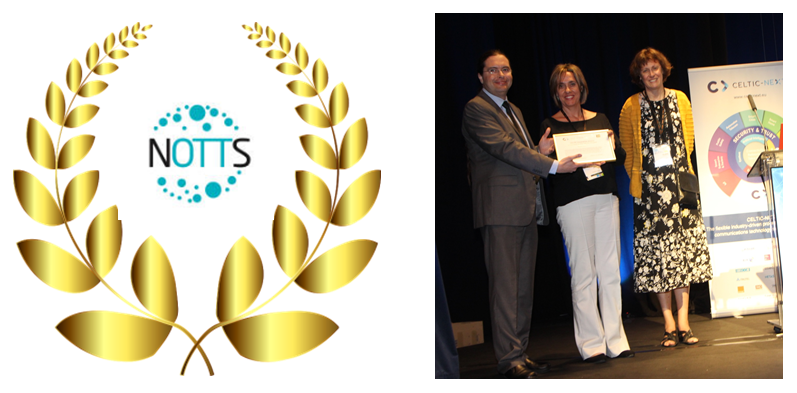 NOTTS Project Coordinator Antonio Quadra Sanchez from INDRA Spain, Juana Sanchez from CDTI, Valerie Blavette CELTIC-NEXT Chairperson
The project has developed a sustainable integrated solution to guarantee the OTT content delivery from the customer's perspective for the whole content distribution chain. The main activities include new media distribution architectures for OTT contents, novel methods for Quality of Experience (QoE) estimation, and development of new Business Models where traditional operators get their share of the raising OTT business. NOTTS technology is supplying the European contents providers, service providers and telecom operators with new technologies that allow increasing revenue from new OTT business models and leading the markets in their respective countries.
The economic benefits of the project equal a return on investment of up to 10 times the investment, as reported by the industrial and SME partners. The project has achieved 27 new improved products that work together under the NOTTS ecosystem to satisfy the needs of telecom market of having an ecosystem for quality assurance of OTT contents from customers' perspective. In particular, the project has permitted a significant increase in sales of "TV Tu i Tam" (the OTT commercial service of Orange Poland), Watson (Anvia's OTT TV service in Finland) and the launching of Sappa Play OTT service in Sweden. Besides, NOTTS business outcomes can be convincingly demonstrated by the high number of dissemination activities (over 110): seven contributions to standardization bodies; 77 scientific publications in leading international journals, conferences and books; 17 PhD & MSc theses; 10 dissemination events (such as the EUREKA innovation weeks), and five patents.
Project Coordinator: Antonio Quadra Sanchez, INDRA Spain | Duration: May 2013 – 31 March 2016
Project Video
Website: https://www.celticnext.eu/project-notts