Finished Project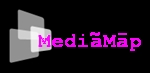 MediaMap
New AudioVisual Indexed Media Platform and search engine for UGC enhancement

Pro

ject Coordinator
Project Consortium
Olivier Guye
Vitec Multimedia
France
e-mail: olivier.guye<at>vitecmm.com

Vitec Multimedia, FR
Solution 2.0, BE
UTC/CRNS, FR
Memnon, BE
Exalead, FR
Belgavox, BE
VRT, BE
RTBF, BE
This is a "Celtic" project;
Project Key Information

Start date

End date

Budget (total)

Effort (total)

Project-ID

September 2008
May 2011
5662 k€
57.7 PY
CP5-014
Abstract
In the new contexts of media convergence and digitalization, amateurs producing audiovisual content are increasingly numerous. More and more users can access more and more content.
However, many points can be improved to help UGC market development.
AV contents are mostly very poor at the editorial level as well as in terms of technical quality and many spectators get bored rather quickly.

The large amount of available content makes it hard to explore

The contents are standardized, repeated regardless of the destination device or the target audience
In order to avoid these defaults, MediaMap aims at developing a new approach to the audiovisual supply chain, where every step of the process is considered autonomous and can offer a quite complete and semantic view of the whole project. In this approach, all members of a community participate simultaneously in a project on which they may have only limited access, where they collaborate with it in different ways, depending on their role, profile, and resources. The approach takes into consideration the mixing of professional and amateurs in a collaborative production.
At the heart of MediaMap is the pre-indexation of contents: describing it before producing it, allowing its conservation and reuse before filming. This indexation is semantic and goes from a new networking AudioVisual production platform (camera, ingest tool) to enriched publication portals enhanced throughout by a semantic search engine.
MediaMap is first of all, a "Practice Project" that brings innovation to the whole audiovisual production chain as a networking service:
Narrative modes by building a networking camera and an ingesting tool that can embed these modes as well as give guidance for the filming and the acquisition

real collaborative work adapted to the skills and the environment of different contributors

administration and content's access level for the new audiovisual content logistics

new access modes and content consumption.