Your next home management tool
ACEMIND project intends to provide a set of simple solutions for enhancing the management of home network, including Information and Communication Technology (ICT) device, home appliance and home automation sensor. With ACEMIND dashboard, it is possible to manage large range of services such as energy management, hybrid network or senior care. Another target is to propose new wireless product without radio waves, Light Fidelity (LiFi).
The main achievements are one unique interface, 5 prototypes, 1 patent (WO2015145048) and several papers/exhibitions (www.celticnext.eu/project-acemind/):
Dashboard: Acemind dashboard shows a complete view of customer's devices at home, like ICT device, white product and home automation sensor. The dashboard comprises as well an interface to services, e.g Security, Senior Care or Green Home.
Hybrid: The challenges to optimize IEEE 1905.1 standard for hybrid network (Ethernet, WiFi, PLC…) with innovative capabilities, such as automatic switching or home network anomaly detection.
Green: Our challenge focuses on home optimized consumption. The demonstrator presents a solution to flatten the energy consumption peak as a first step of service with simplicity and transparency for cust

omers. It consists of electrical system architecture management and a control algorithm in order to efficiently manage some home high electrical consumers (washing machine, dishwasher, dryer…).

LiFi: The proposed optical wireless communication demonstrator is composed by two devices. One connected to the home box and the second is plugged to a laptop via USB port. This demonstrator proposes a bilateral communication.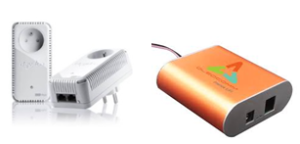 Devolo and Oledcomm products